[ad_1]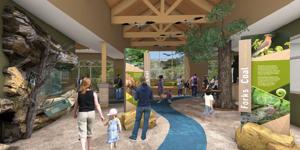 ALUM CREEK — Building is seldom fairly, but what follows normally is.
Suitable now, building of the Claudia L. Workman Wildlife Education Center is in the much less-than-fairly phase, with heavy gear pushing piles of dirt right here and there. Someday in the not-also-distant future, a gleaming facility will stand exactly where these piles after had been.
Division of All-natural Sources officials gave the public a glimpse into the future at a current meeting of the state All-natural Sources Commission. In a 15-minute presentation, the DNR's Art Shomo showed a gathering of some 50 individuals what the completed center will appear like.
He showed them low-slung, 7,000-square-foot creating with a timber-framed gable at the center of its façade. He mentioned roughly half the creating — to be positioned on the Forks of Coal State All-natural Location close to Alum Creek — would function exhibits committed to the area's wildlife and ecology, and half would be devoted to a classroom capable of accommodating 50 to 60 individuals.
"The creating will be surrounded by wildflowers, and significant windows at the back of the creating will enable guests to appear out into the surrounding woods," Shomo added.
When completed, the $four million center will fulfill the dream of the late Claudia Workman, an amateur naturalist who lived just across the road from the Forks of Coal house. Claudia's husband, Jack, donated the 105-acre tract to the DNR shortly prior to he died, with a proviso that a nature-education center be constructed on the grounds.
The center will be constructed with dollars from many sources, such as interest from the DNR's Kanawha River Endowment Fund, income from oil and gas royalty payments, and donations via the Forks of Coal State All-natural Location Foundation.
Shomo mentioned building will take location in 3 phases. The 1st phase, which started earlier this year, will place all the required infrastructure into location.
"We're getting to place in a little sewage therapy plant, move a gas line, set up water lines, and construct a new access road," Shomo explained.
"The new road will intersect with Corridor G about a quarter mile south of the existing entrance. We had to construct a new access mainly because the existing entrance is in the middle of a blind curve and is not really secure. All the infrastructure perform should really be completed by the finish of July."
Completion of the other two phases — building of the creating itself, and installation of all the exhibits — will start sometime right after that. Shomo mentioned an precise beginning date hasn't been set, but right after building starts the creating should really take a year to a year and a half to comprehensive.
Guests to the center will stroll beneath a vaulted, timber-framed ceiling into the center's exhibit hall. A carpet pathway, blue to simulate the Coal River and its two most important tributaries, will wind via the exhibits.
Just inside the entrance, a 1,500-gallon aquarium will function fish species native to the river. An exhibit that characteristics some little reside animals will be positioned nearby.
"There will be exhibits that deal with wildlife management, wildlife habitat, forest development and succession, and law enforcement," Shomo mentioned.
The exhibits, created by Split Rock Studios, a expert style firm from Arden Hills, Minnesota, will function a section devoted to complete-physique taxidermy mounts of elk, white-tailed deer, black bear and beaver. A different section will detail how young forests develop to grow to be mature forests. But yet another will concentrate on popular conservationists.
Nevertheless yet another portion of the exhibit will concentrate on how law enforcement assists safeguard wildlife and the atmosphere.
Since the center is anticipated to attract students from location schools, a single exhibit will give youngsters an chance to arrange rock-shaped foam pillows into simulated stream-improvement structures on the center's blue-carpeted "rivers."
With the center's back windows providing close to-panoramic views of the surrounding trees, DNR officials will attempt to encourage guests to do a tiny bird watching.
"We're going to attempt to have tethered binoculars there so individuals can view the birds," Shomo mentioned. "Along with that, we'll have an exhibit on bird watching and listening."
DNR officials count on the center to be staffed by two complete-time personnel and a group of volunteers.
"We want to have a naturalist that will strategy and lead nature hikes, take care of the exhibits, lead tours inside the creating, and oversee the volunteers," Shomo mentioned. "We'll be functioning with college systems to arrange visits to the center. We'll appear at the schools' curricula and attempt to match our presentations to their demands."
[ad_2]