[ad_1]

"Just get a Glock."
Glock is one of the most successful and debated about brands in the firearms world.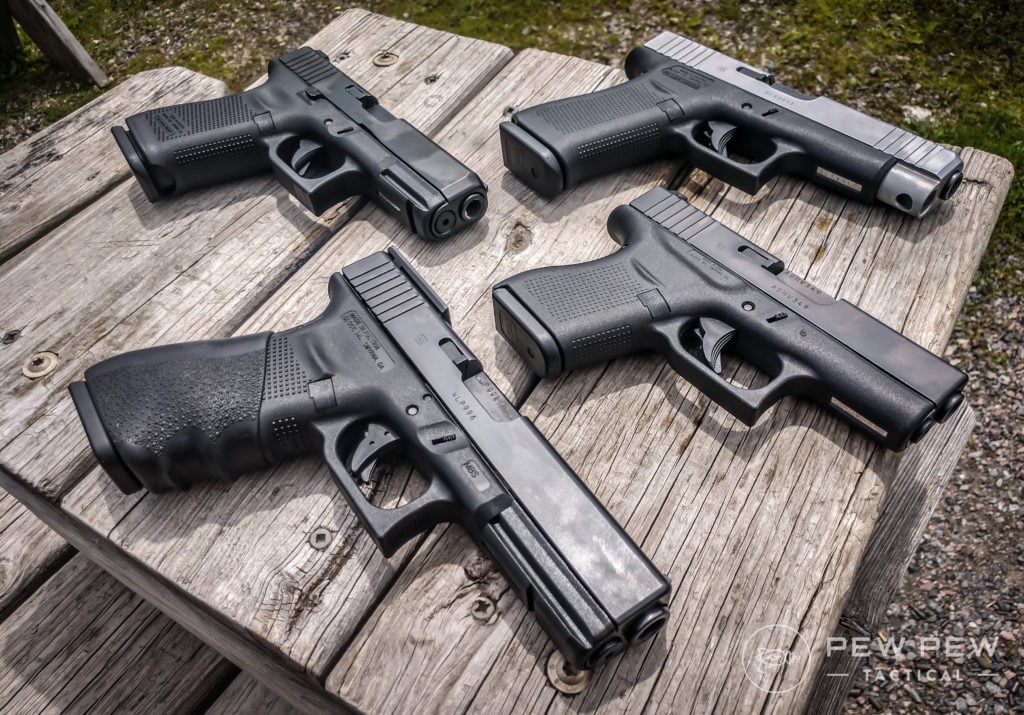 Even outside the gun world, if you know any firearm brand – it's probably Glock.
Within the gun world, it seems like people either utterly love them or despise them.
There is no middle ground.
However, Glocks do fulfill a niche – an enormous niche – and are here to stay.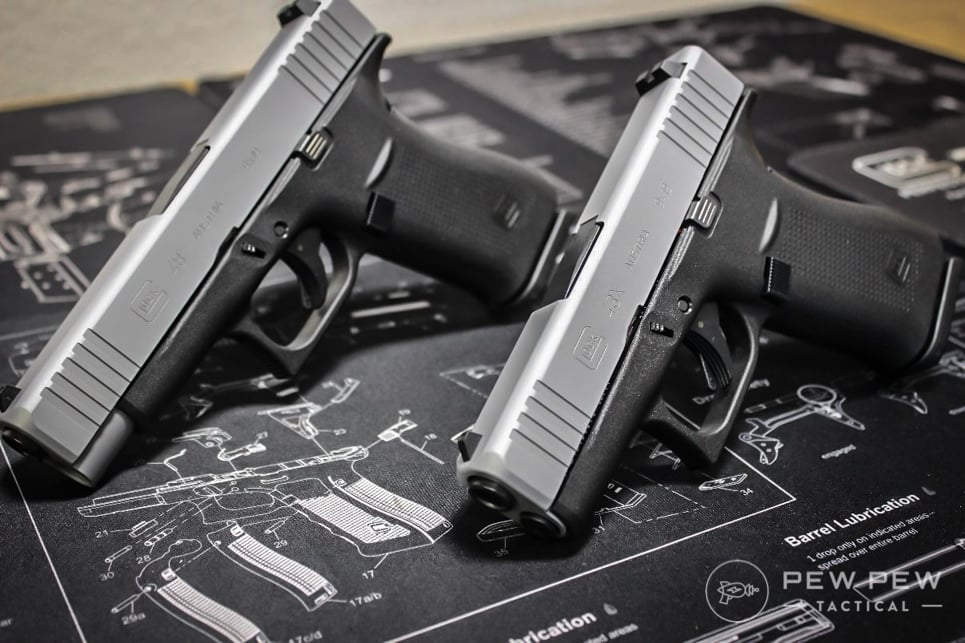 And guess what, not all the models are the same.
We're going through the best and most popular models across different sizes and calibers.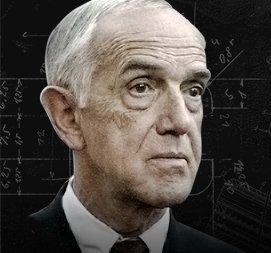 Best Glock Models
1. Glock 17 & 19, Gen 5
It wouldn't be a "best of" Glock piece without the G17 and G19.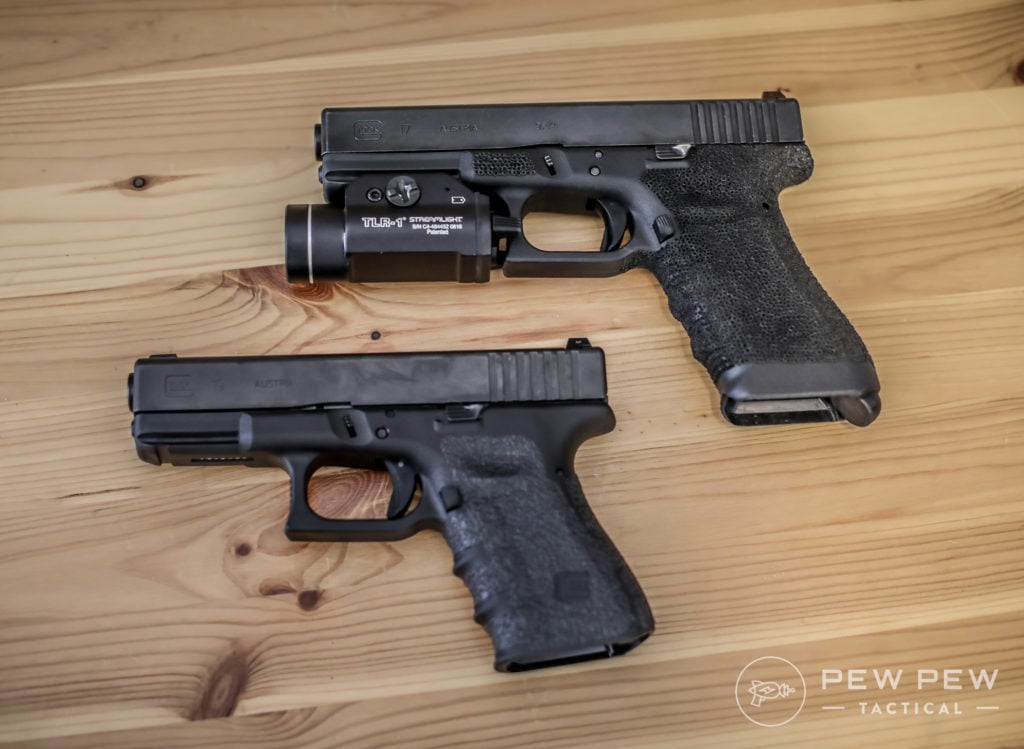 These are, of course, the company's uber-popular, best-selling full-size and compact 9mms, respectively.
And before we move on…the number 17 and 19 are Glock's 17th and 19th patents. Nothing to do with caliber or size…
As you now know the G17 was "The Gun That Started It All" while the G19 was the gun that came into being because LEOs wanted a smaller model.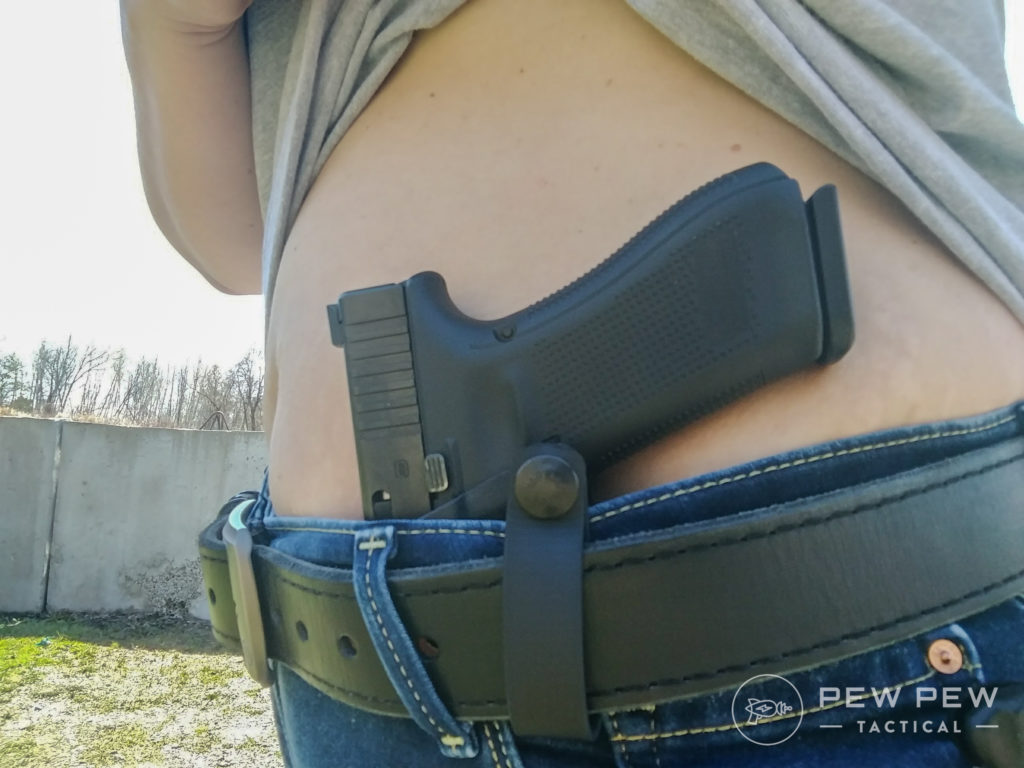 Size Details
The Gen 5 G17 is 8.03 inches long, 5.47 high, and 1.0 inches wide. It weighs 24.87 ounces empty and 32.28 ounces with a loaded mag.
It's the standard-issue gun for a ridiculous number of law enforcement agencies which has translated to love outside the LE world, too.
Of course, it is a solid, reliable, accurate pistol so it's all good.
As for the Gen 5 G19, it's a little smaller.
The G19 has an overall length of 7.28 inches, a height of 5.04 inches, and is 1.0 inches wide. Empty weight is 23.63 ounces and loaded weight is 30.16 ounces. As you can see, their size difference is not significant.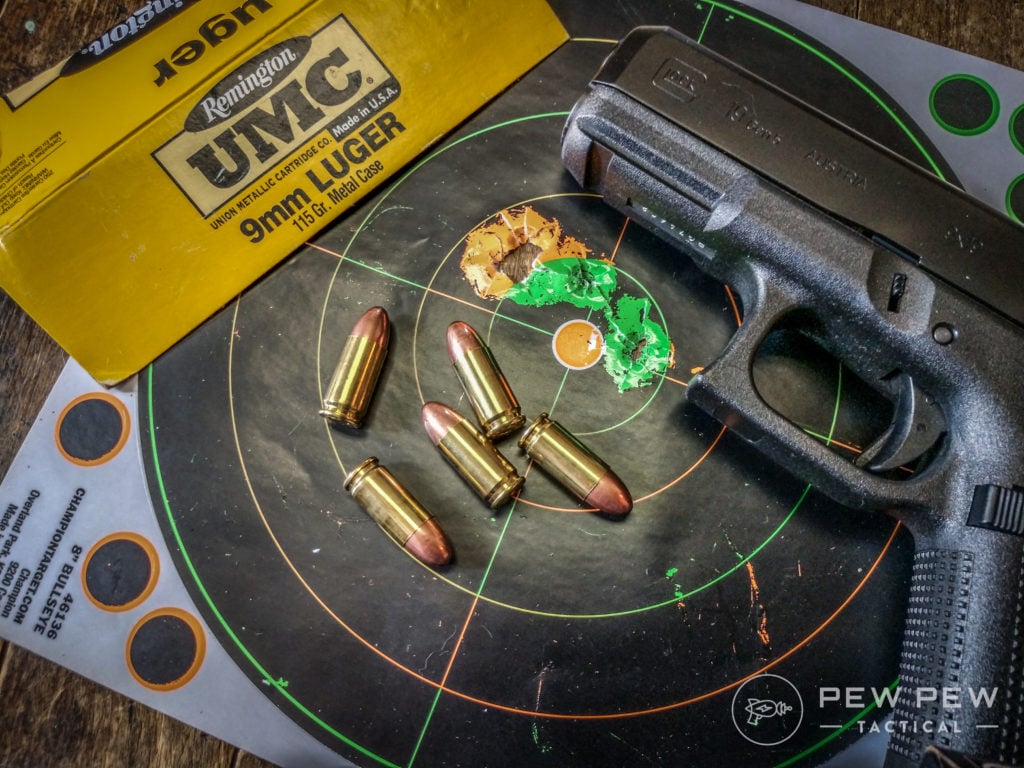 9mm
One of the big reasons these models are so freaking popular is that they're chambered in 9mm. Ballistics have advanced over the years, making 9mm king again after it spent years beaten out by .40 S&W. Is .40 S&W still a hair better ballistically? Yes. Is 9mm a capable, fantastic cartridge?
Yes again.
9mmx19 Parabellum/Luger – yes, both those designations refer to the same cartridge – was designed back in 1902 by Georg Luger for the Luger semi-auto. Today it's the most commonly-used cartridge in the gun world so you could say Georg nailed it. 
If you're looking for a classic poly carry gun, you've found it.
Them.
Both can be concealed – yes, you can conceal a double-stack, full-size gun – but of course the G19 is the model meant for concealed carry.
I have several of these guns and have no complaints whatsoever.
They're durable, fit my hands well, and accurate. Also, the G17 has a capacity of 17 +1 and the G19 has a capacity of 15 +1.
What's not to love?
And of course…we have a full review of the Glock 19 Gen 5 after 3500 rounds.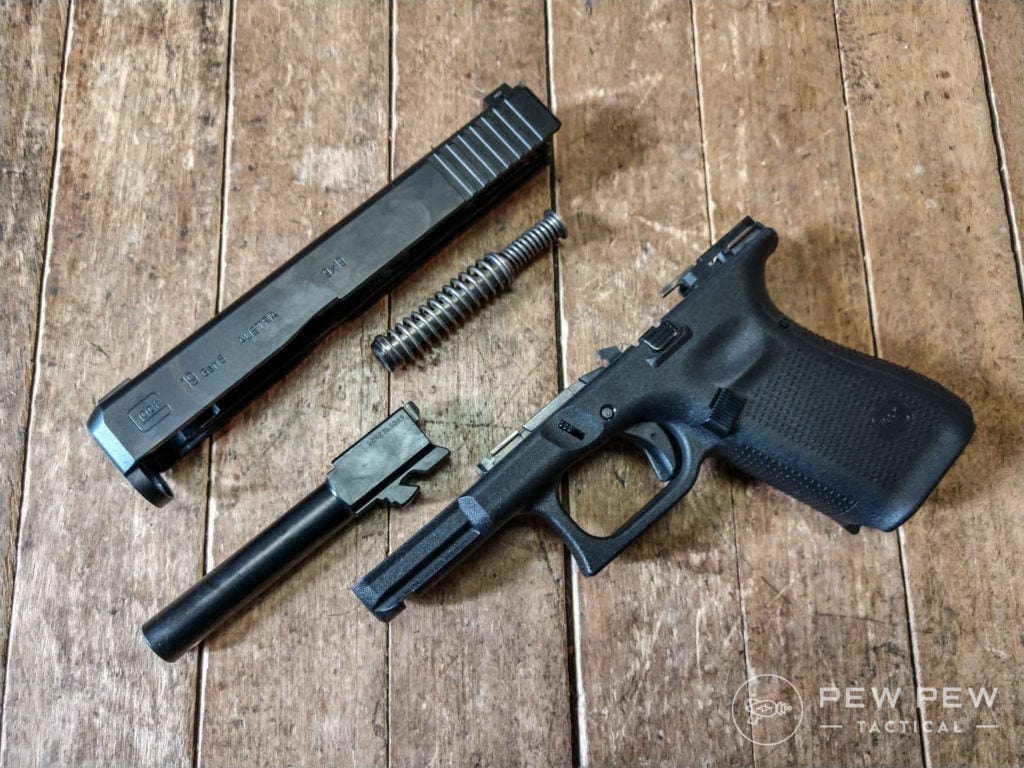 What's your take on the G17 and G19?
2. G48
The G48 is a newcomer to the Glock line but it's gathered a serious fan base right off, including me. This one is also chambered in 9mm but unlike the G17 and G19 it is not a double-stack.
Some would argue it isn't exactly a single-stack, either; technically Glock refers to this as their Slimline pistol.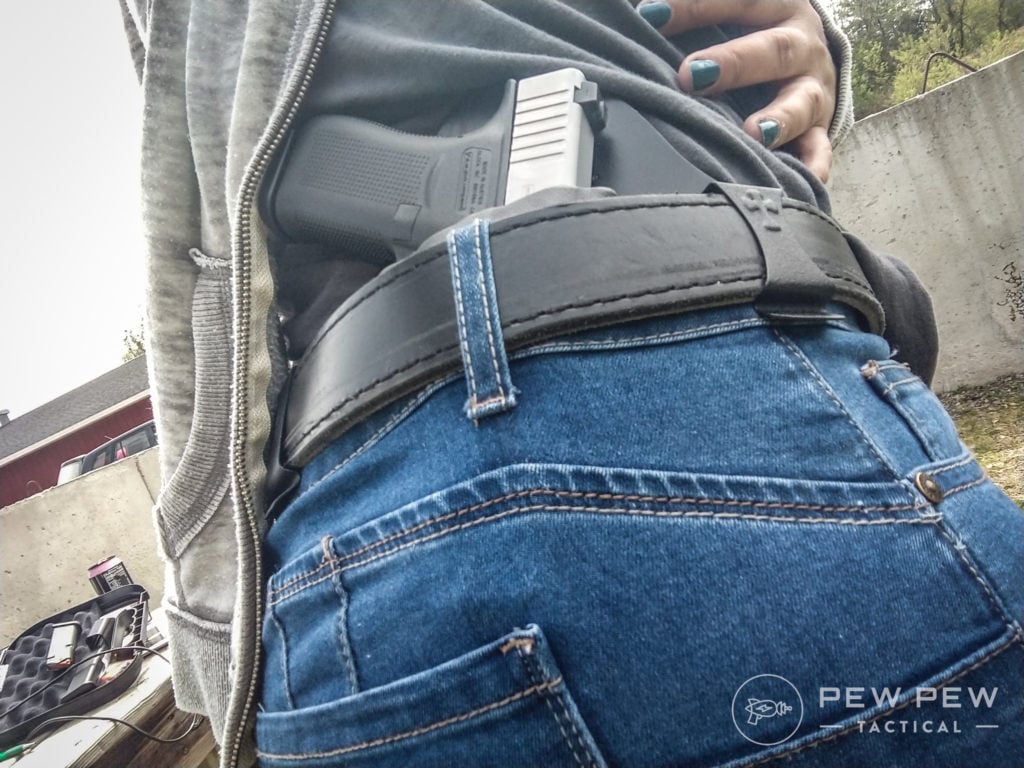 It was released with the G43X, a gun with identical dimensions except for the fact the barrel of the G43X is just shy of one inch shorter. (The G48's barrel is 4.17 inches long; the G43X's barrel is 3.41 inches long.)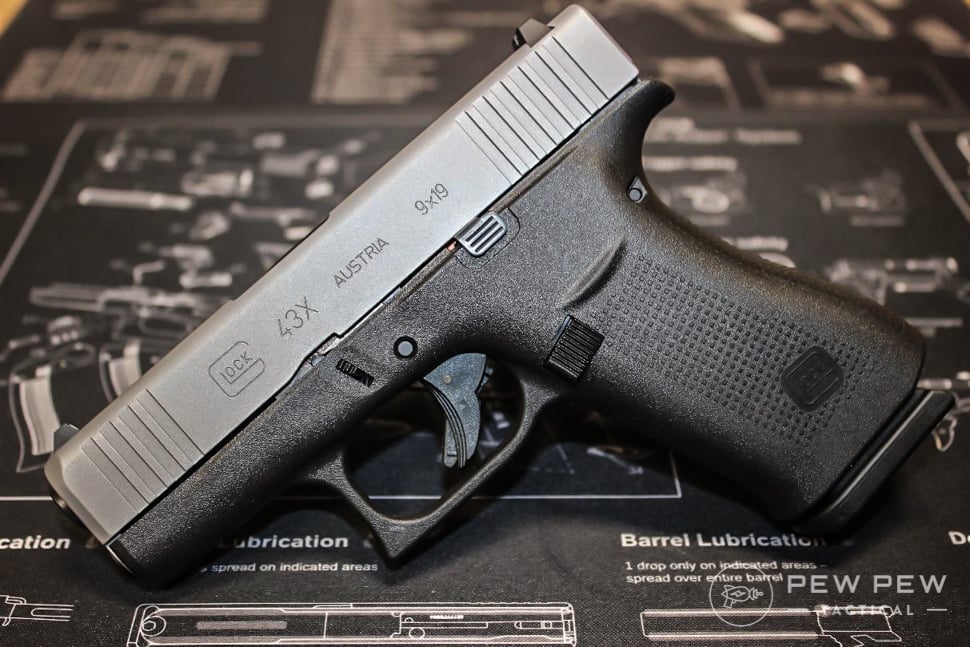 Glock created the G48 as the ultimate EDC. At first, I was skeptical – I'm neither a huge fan of 9mm nor a lover of single-stack poly pistols – but I decided to try out the G48.
Long story short the gun proved itself wicked precise, a perfect fit for my hands, and comfortable to conceal. It is my current preferred carry gun.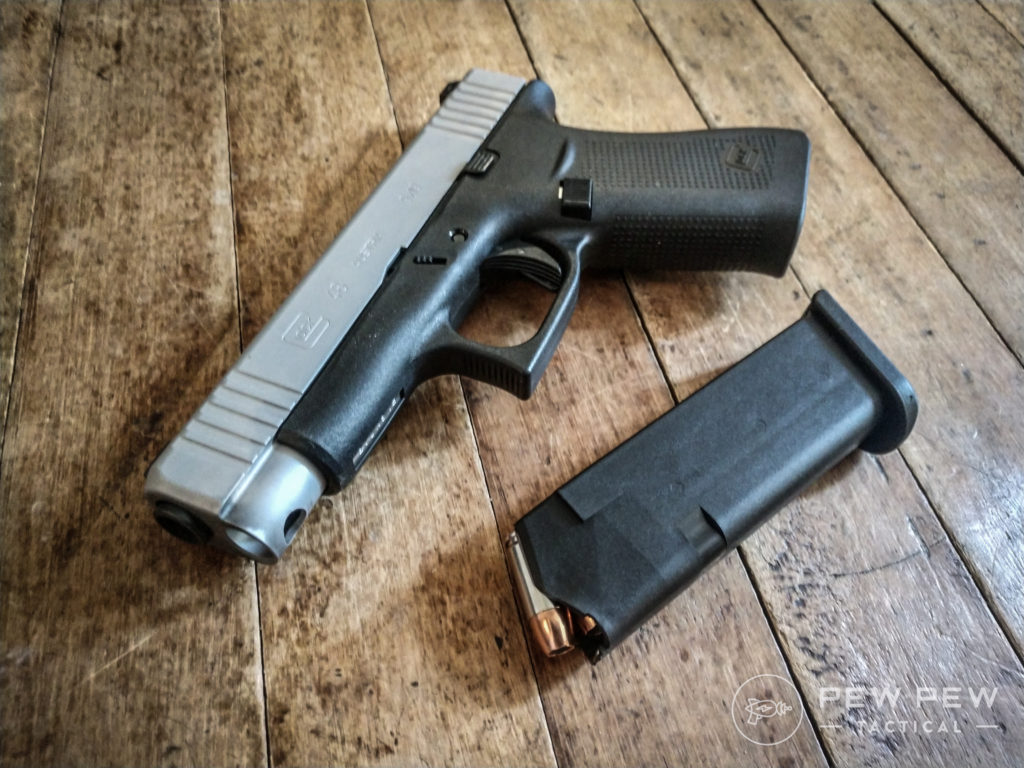 Features
The G48 is a compact gun with a ten-round capacity. Aesthetically it's noticeably different than the classic Glocks thanks to the Slimline frame and silver nPVD slide.
It has a reversible magazine release, built-in beavertail, and front and rear slide serrations (but seriously, do I have to lecture you again not to rack a slide from the front).
The gun's overall length is 7.28 inches, overall height is 5.04 inches, and width is 1.10 inches. It has an empty weight of 18.48 ounces.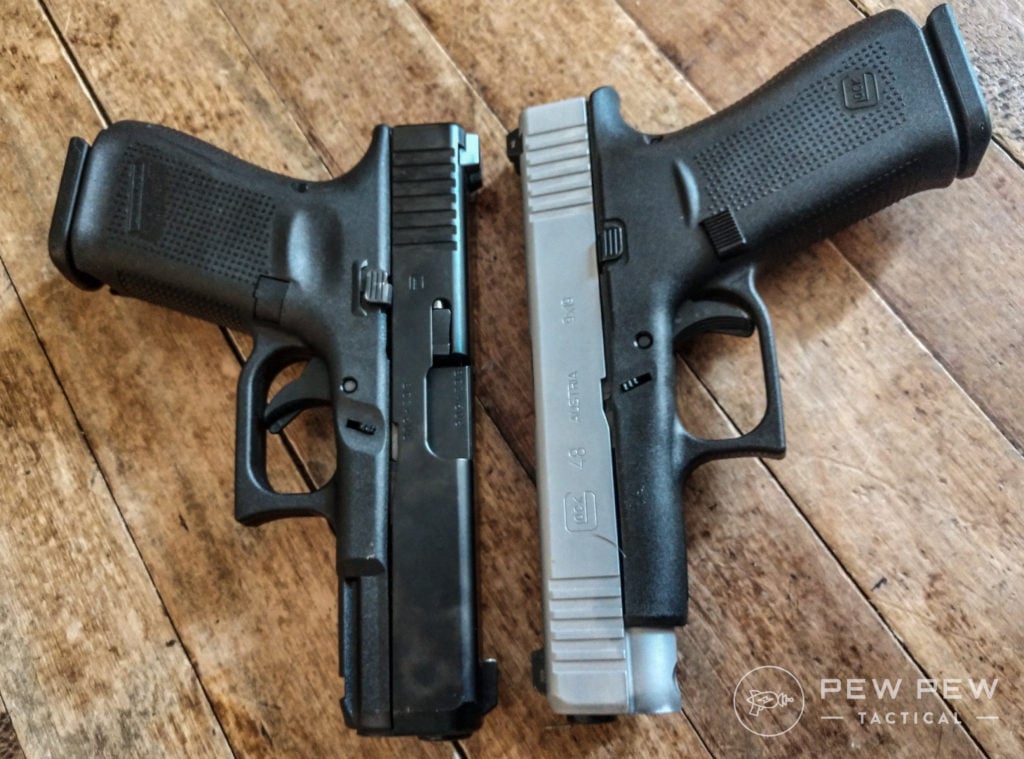 This gun is a seriously sweet shooter.
The first magazine I put through I did a playing card drill – five shots fired at five yards, offhand, taking your time – and the group produced was an awesome single hole.
I got carried away and emptied the magazine, too, meaning all ten rounds nailed one hole. The G48 has eaten everything I've fed it which has been a combination of range and defensive ammo and has experienced no failures of any kind.
Mine is about 700 rounds in so far.
Does this gun rock?
You bet it does.
Check it out. (Suggestion: get an Overwatch Precision trigger for your G48. You can thank me later.)
And yup…we got a full review of the G48 too.
3. G43, Gen 4
The G43 is a subcompact 9mm that came about back in 2015.
Although it was predated by the .380 ACP-chambered G42 it was met with far greater excitement. A single-stack 9mm from Glock was Big News at the time.
It's a subcompact, little pistol and whether or not you like it tends to be a matter of strong opinion.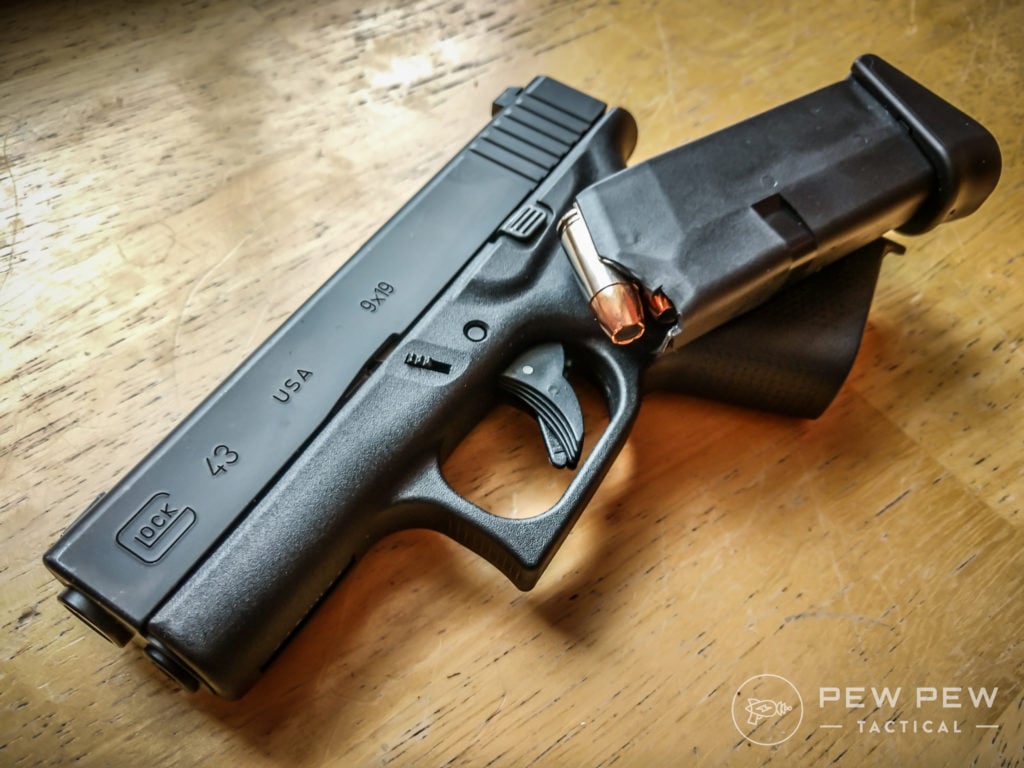 I ran a G43 for the first time at the Glock media gun launch.
Glocks are my jam, but the G43 is a bit tiny for my hands. That said, a lot of gun owners love its size. It has an overall length of 6.26 inches, an overall height of 4.25 inches, and a width of 1.06 inches.
Empty it weighs in at 16.23 ounces. This is a highly concealable pistol but you do pay for that with a lower capacity; the G43 has a capacity of six rounds.
Best 9mm Self-Defense (124 gr)
This is a good little pistol especially when you run it alongside its current competitors, the SIG P365 and Mossberg MC1SC.
After spending considerable time shooting all three, including time firing them one after another on the same days, I'm going to declare the G43 the most accurate subcompact 9mm.
It does have a shorter barrel – 3.41 inches –  so effective range is somewhat limited, but it's accurate under ten yards. Out to fifteen yards groups broaden but are still good enough for self-defense.
Ultra Reliable Single-Stock CCW
If you want a subcompact 9mm that cycles reliably, beats out the competition for accuracy, and is perfect for concealed carry, you want the G43.
Our full review of the G43…AND a YouTube review too!
4. G20, Gen 4
Think of this as an honorable mention of sorts for those of us who handgun hunt.
The G20 is Glock's full-size 10mm; the G29 is their compact 10mm. I've used my G20s on numerous hunts going after everything from alligators to deer to feral hogs.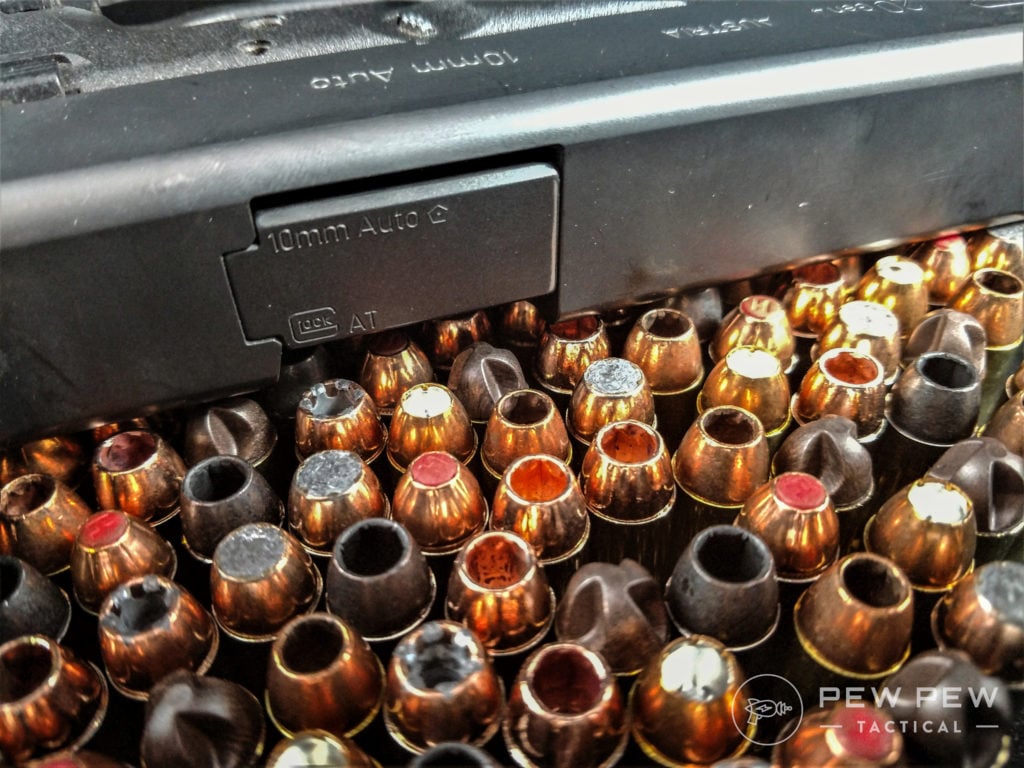 Even caked with Texas dirt and clogged with rain they keep going. Considering the handguns I've had fail on dusty, dirty hunts I'm pleased the G20 does so well.
This one's a substantially-sized pistol with an overall length of 8.07 inches, an overall height of 5.51 inches, and a width of 1.34 inches.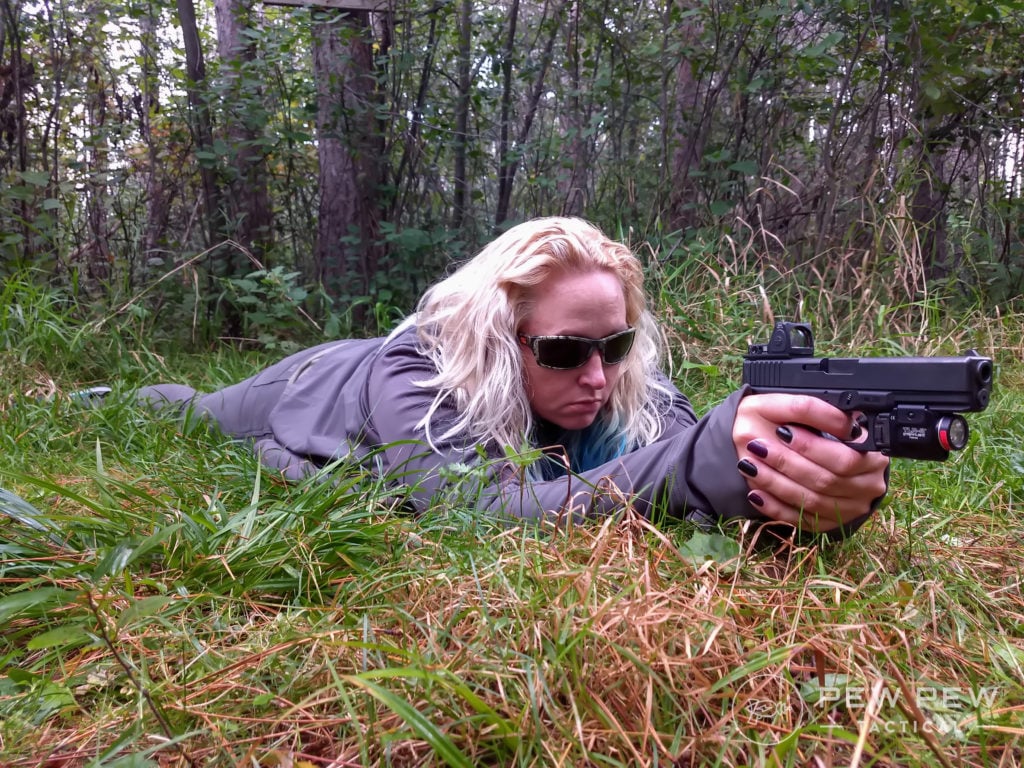 When it's loaded it weighs 39.86 ounces. I run mine with various red dots for hunting but I've also used them on the range and hunting with irons.
The Trijicon SRO, which is new at the time of this writing, has become a fast favorite of mine on my Gen 4 G20. It replaced the Trijicon RMR which is now living on one of my 1911s.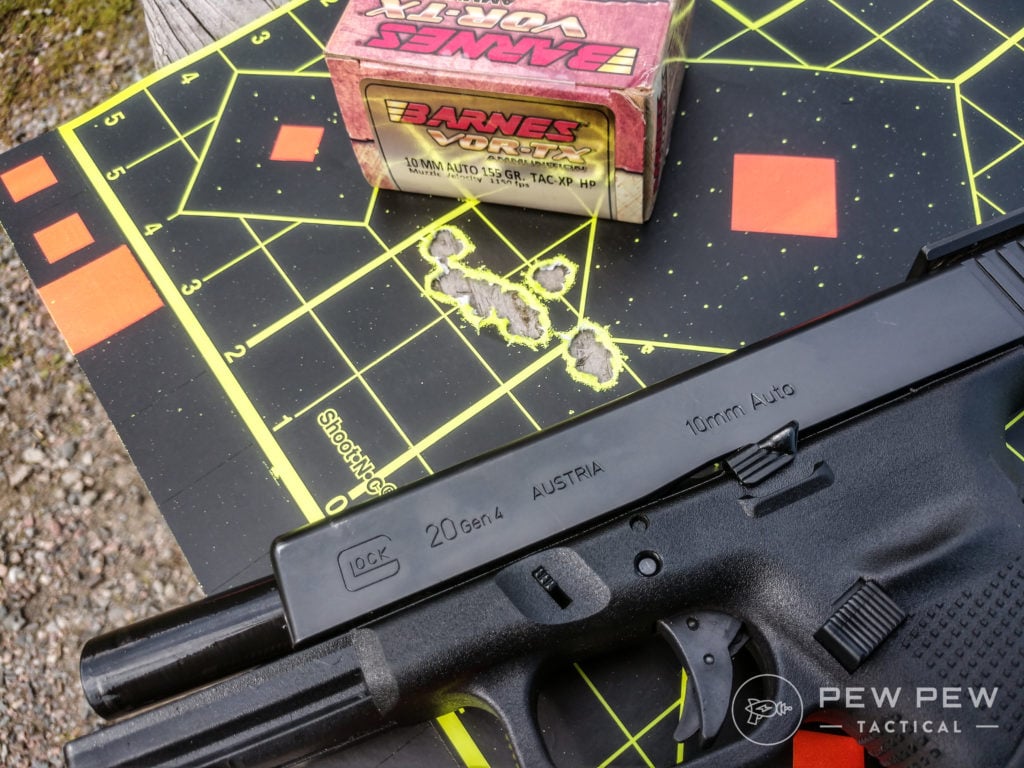 10mm came into being because the late Jeff Cooper decided he wanted a pistol cartridge with ballistics greater than those of the .45 ACP and more overall power than the 9mm.
It was FFV Norma AB that created it for Dornaus & Dixon Enterprises; the cartridge finally hit the market in 1983.
The cartridge's final evolution exceeded Cooper's initial ideas ballistically. When it's loaded to its maximum SAAMI pressure it beats out .357 Magnum.
10mm produces a flatter trajectory and is capable of reliable performance at greater distances than its smaller caliber friends. It's the sweet spot cartridge for handgun hunters. Oh, and it's dead-on accurate, too.
Boom…want to get into 10mm? Check out our full review of the G20.
Honorable Mentions
There are a few other models worth a mention. For concealed carry there's the G26, a subcompact double-stack 9mm with a ten-round capacity.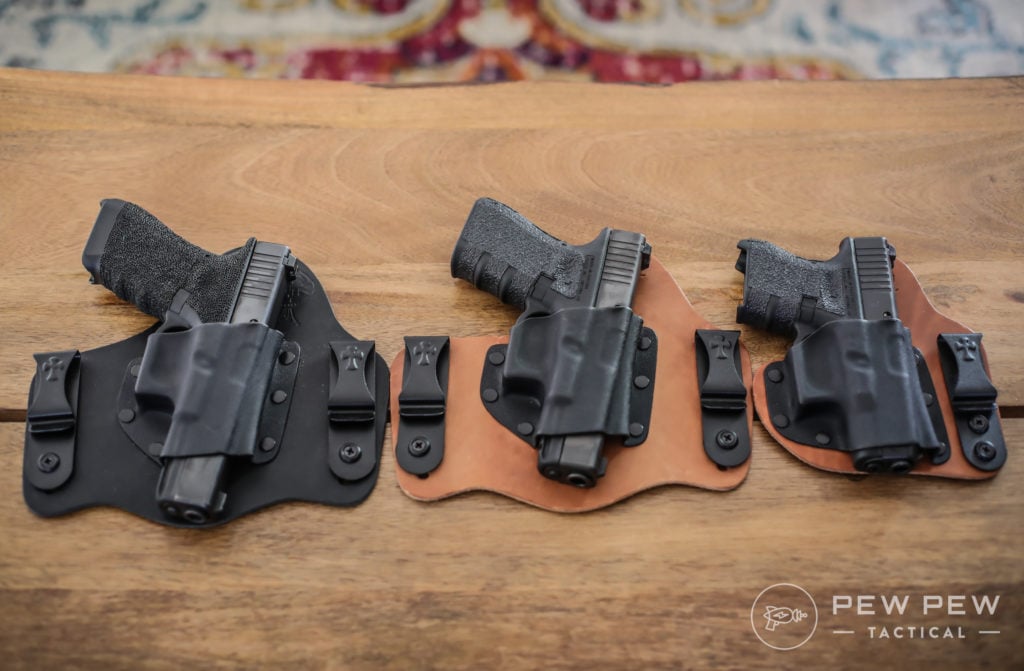 Its almost-twin, the G27, is chambered in .40 S&W, has a ten-round capacity, and is a neater little gun than you probably think possible.
The G42 is, of course, Glock's single-stack, subcompact .380 ACP.
If that's what you're into, go for it. If you want a not-a-1911 .45 ACP there's always the full-size G21 or the subcompact G30.
Parting Shots
In case you haven't noticed yet – Glock has something for everyone.
There are reasons the Austrian company has flourished and those reasons include reliable cycling, durability, and affordable pricing.
Are they super-sexy? No, but you can change that with a little aftermarket work. It might be a cliché, but it's true: you really cannot go wrong with a Glock.
What is your favorite Glock? Double-stack or single-stack? Let us know in the comments! Ready to really trick out your Glock, check out the Best Glock Upgrades and Best Glock Mags.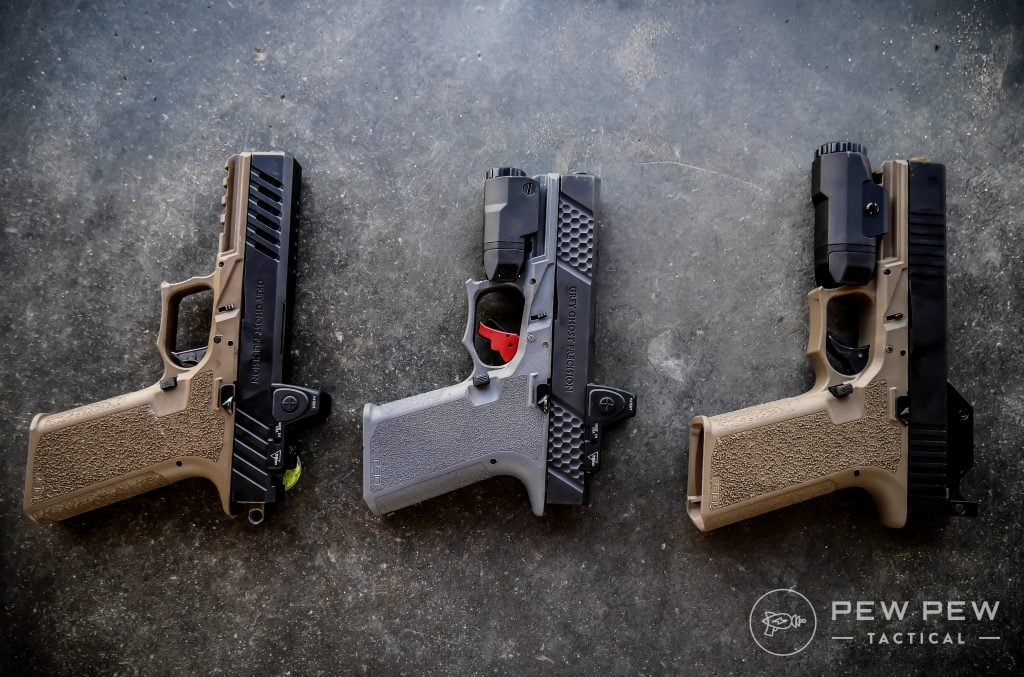 [ad_2]