[ad_1]

What does it take to make the most successful carry gun currently on the market? 
Well, it appears you need to make a compact gun, chambered in 9mm, give it a 10 round capacity and make it the same size as a single stack 9mm.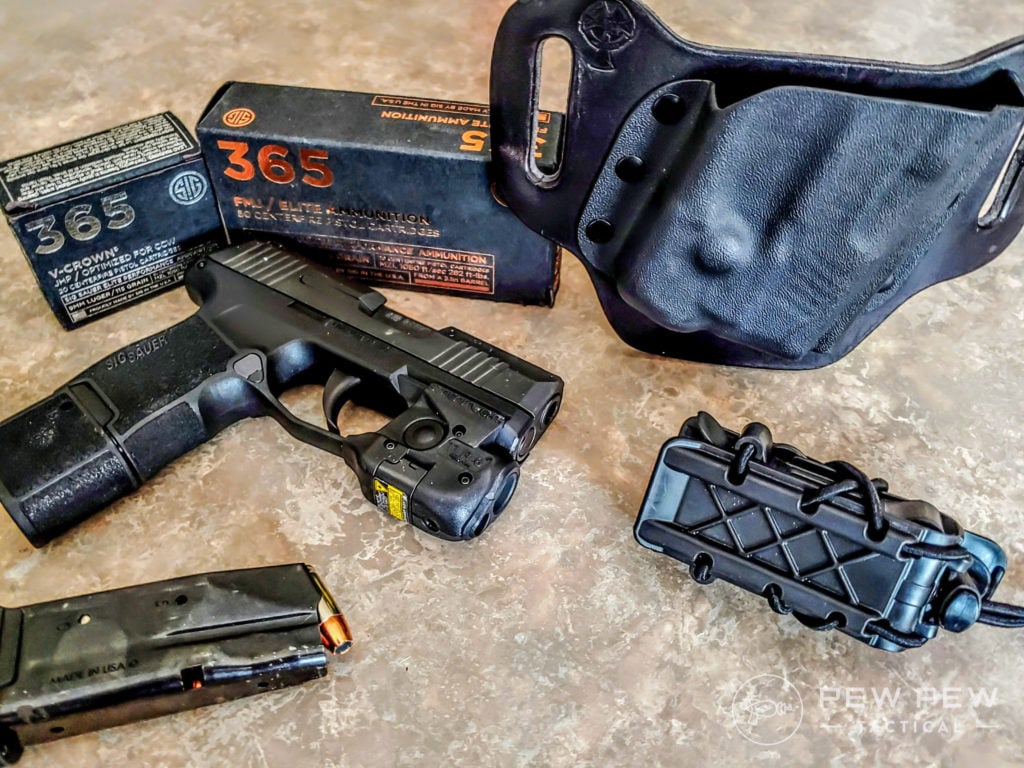 That's exactly what SIG did, and they produced one of the more revolutionary carry weapons to date. 
And yes…we have a full review with YouTube video too.
The SIG P365 has been a home run for them in the carry gun market. The gun has been wildly successful in terms of the civilian market and has even been adopted as a back-up gun with a few different police forces. 
I've gotten my hands on plenty of different accessories and add-ons for the gun so today I want to talk about the best upgrades and accessories for the P365. 
My Personal Carry Gear
I've been carrying and using the SIG Sauer P365 for over a year now. I've explored it inside and out. I've gotten close to 1,700 rounds through the gun.
The early SIG P365s had some notable problems, but this seemed to be corrected quickly.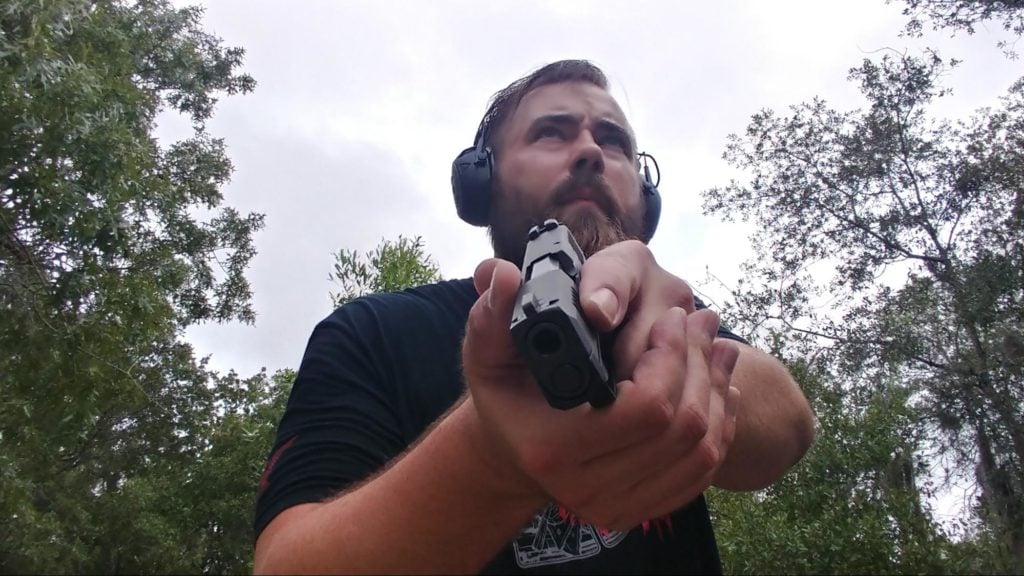 It's been a top-selling gun since then, and SIG and the firearms industry seems to be happy to throw their weight behind it. 
I've also had the chance to try several pieces of gear out while carrying the SIG P365. Over time how I carried the SIG P365 has changed slightly, and my current carry setup is as follows. 
Best Sig Sauer 365 Upgrades
1. Streamlight TLR-6 
The Streamlight TLR-6 is a purpose-built miniature weapon light that has been designed for subcompact weapons. The light attaches over the frame and trigger guard, as well as onto the SIG P365 proprietary rail system.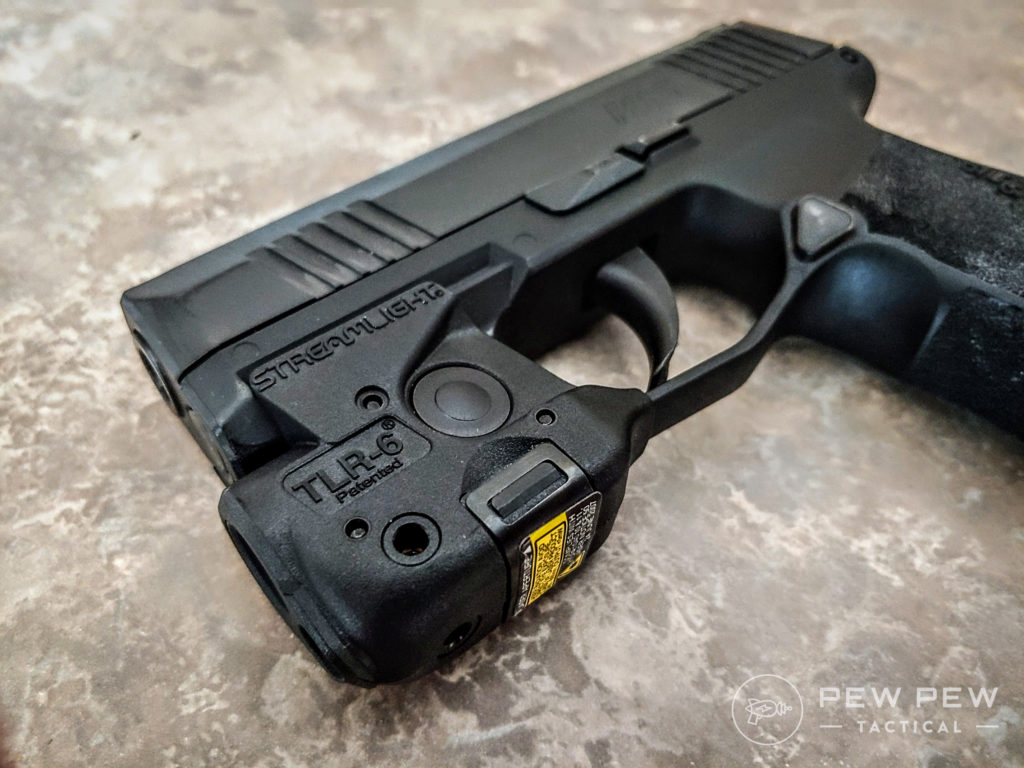 Due to this design, you must purchase the correct TLR-6 that matches the model of your handgun. The TLR-6 is made for the P365 and to me, it's an excellent addition to the P365. It's very small, incredibly lightweight, and gives you both a laser and light combination. 
The TLR-6 does require you to take it apart to install it, but that's not incredibly difficult to do. You can do so very quickly. The TLR-6 sports two control buttons, one on each side for ambidextrous use.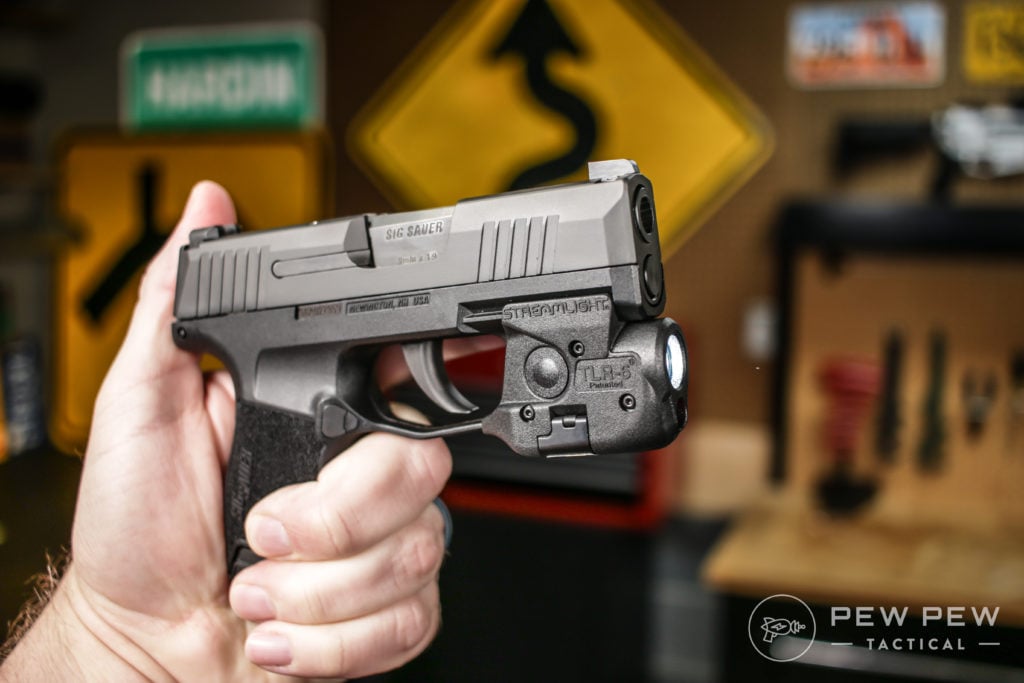 The weapon light comes with multiple modes. You get light and laser, light only, and laser only.
You change the settings via quick and simple push-button combinations. The unit then remembers your final choice and saves it for the next time the button is pressed. 
Those buttons are pressed for easy use by the trigger finger or with the thumb of the support hand. The TLR-6 shines a bright 100 lumens and the parabolic reflector that gives you 89 meters of visible light.
The 100-lumen beam is surprisingly bright, and it casts a wide spotlight style beam. 
It casts such a wide and bright light that it completely fills your peripheral vision. The TLR-6 takes your carry gun and makes it effective not only 365 days a year, but 24 hours a day. 
2. Crossbreed DropSlide OWB Holster 
When I got the light on my P365 I started looking for a holster. Crossbreed was more than happy to send me one when they found out I was looking.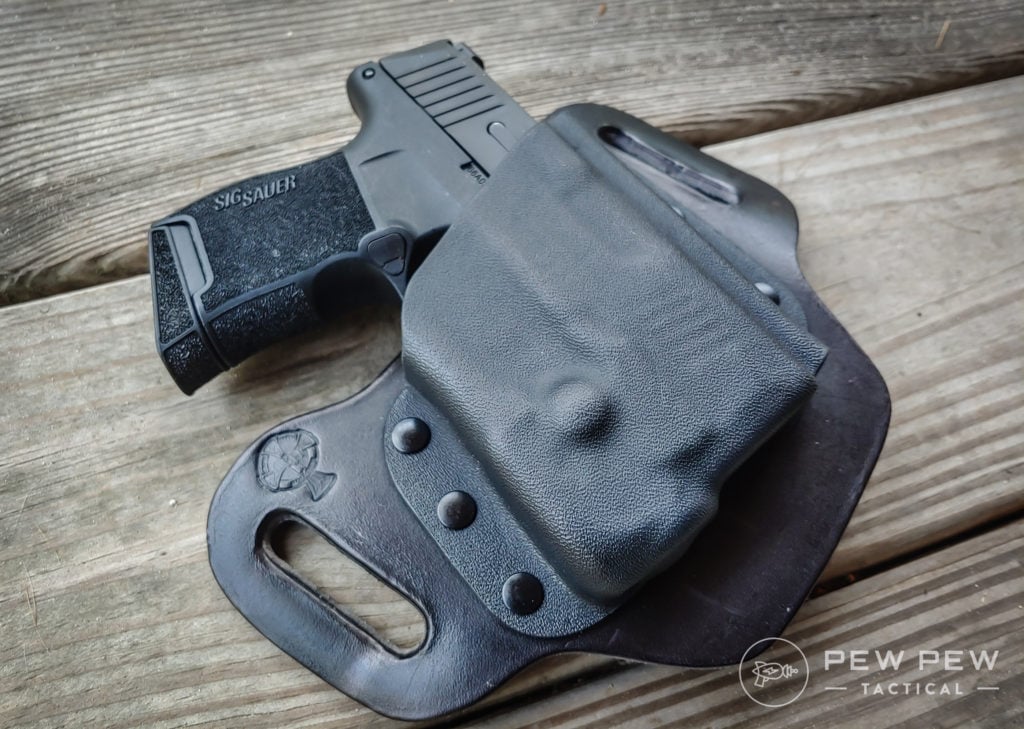 They produce both OWB and IWB models and I'm more of an OWB type of guy. I went with the DropSlide OWB for the P365 with the TLR-6 equipped. 
The Crossbreed bends to my body and this allows it to hold tight to my body. The overall design stresses concealment and this makes it easy to keep the gun hidden under just a t-shirt.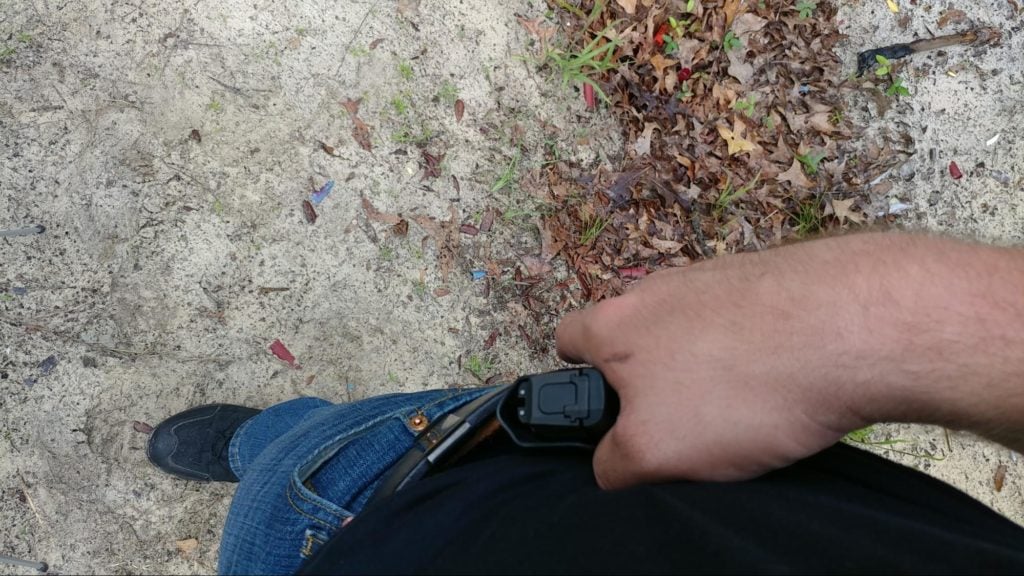 When it comes to the draw, the DropSlide design allows me to get my big hands around the gun. 
A lot of OWB holsters that are designed to be concealed make it hard to get your full hand, including thumb, around the gun when drawing. This lower cut leather allows for an easy and complete draw. 
The holster is comfortable, and it has no issues hiding the gun and the light. It's very comfortable and it's one of those holsters you can forget you're wearing. The holster is available in nonlight bearing designs as well. 
3. 15-Round P365 Magazine
When SIG introduced that 15-round magazine I got plenty excited and knew I'd be grabbing one as soon as I possibly could. I blame it on my machine gunner mentality, I always want more rounds.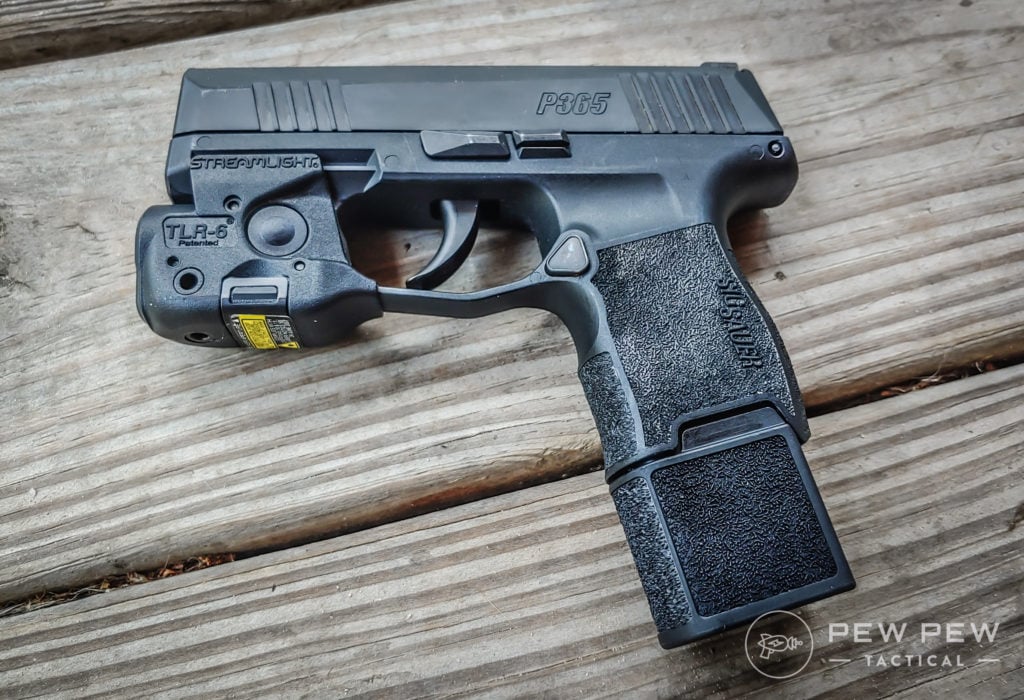 SIG released these magazines with a grip filler that allows it to fit flush with the standard P365 as well as a shorter pinky extension for use with the newer SIG P365 XL.
The gap filler is textured to resemble the P365 grip and does give about an extra inch of grip. 
I carry the 15-rounder as a spare magazine. If I ever get in a gunfight where 10 rounds aren't enough why not carry an extra 15?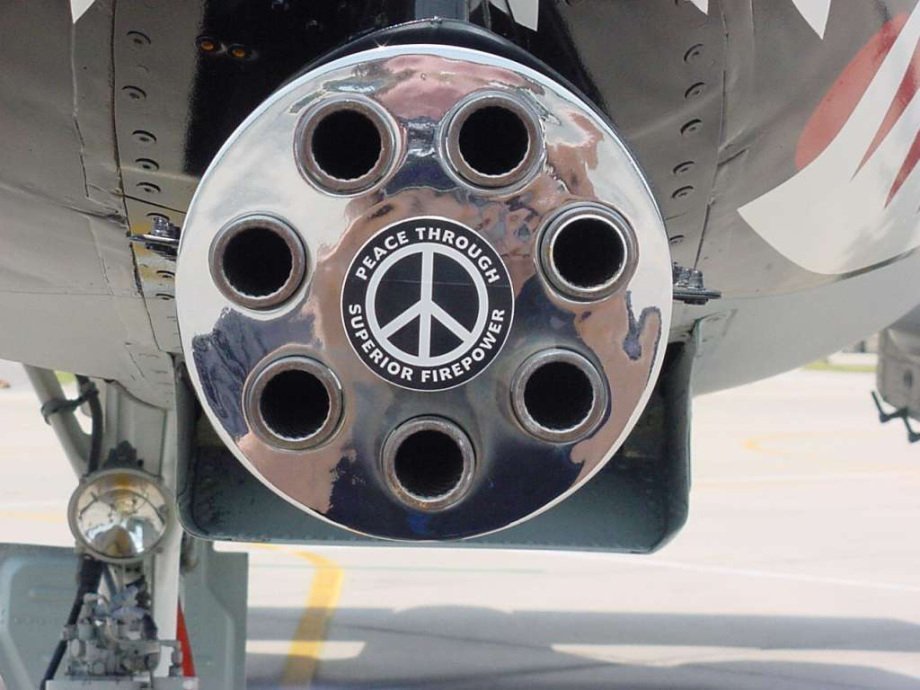 Not only does it offer me more rounds, but its longer length makes it easier to draw and load into the gun. The less fumbling you do the better and smaller mags can be difficult to retrieve from a mag carrier. 
As an OEM mag, it is a little pricey, but it's also very well made. I will say getting that 14th and 15th round in place is an effective warmup for a good workout.
Those last two really want a good squeeze to get in there. I guess that's what happens when you want the smallest mags possible. 
If the 15-rounder seems a bit much to you, remember they have a 12 rounder as well, it's a bit smaller, and comes with an integrated pinky rest.  
4. HSGI Polymer TACO 
One little challenge I had was finding a good mag pouch for the P365. The magazines are too wide to be single stacks and too thin to be a traditional double stack.
That left me searching for a mag pouch that would meet the dimensions and simultaneously not be a piece of crap.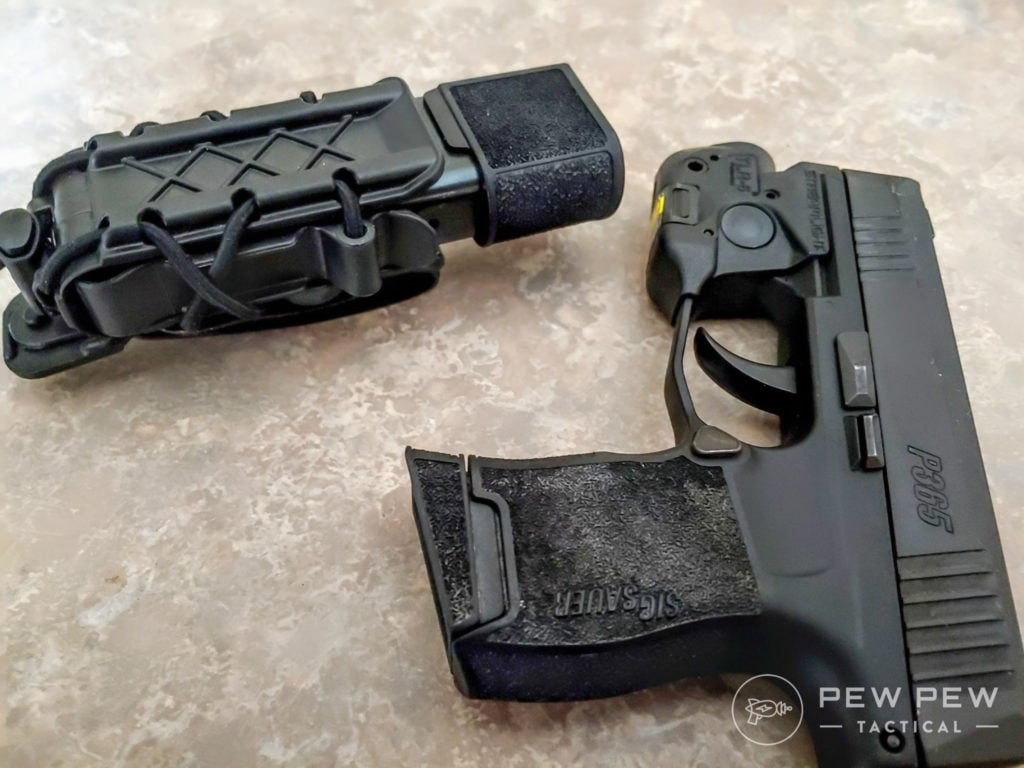 Way back when I was a cool guy I was issued a pistol and used old school TACOs to carry my spare mags on my plate carrier.
I remembered they adjusted for the size of the magazines so decided to go that route. I snagged a Polymer TACO with the Universal Mounting Clip. 
This allowed me to just toss in my belt and go. The Taco uses polymer panels held together with a flexible shock cord that allows the mag pouch to grow or shrink while retaining retention.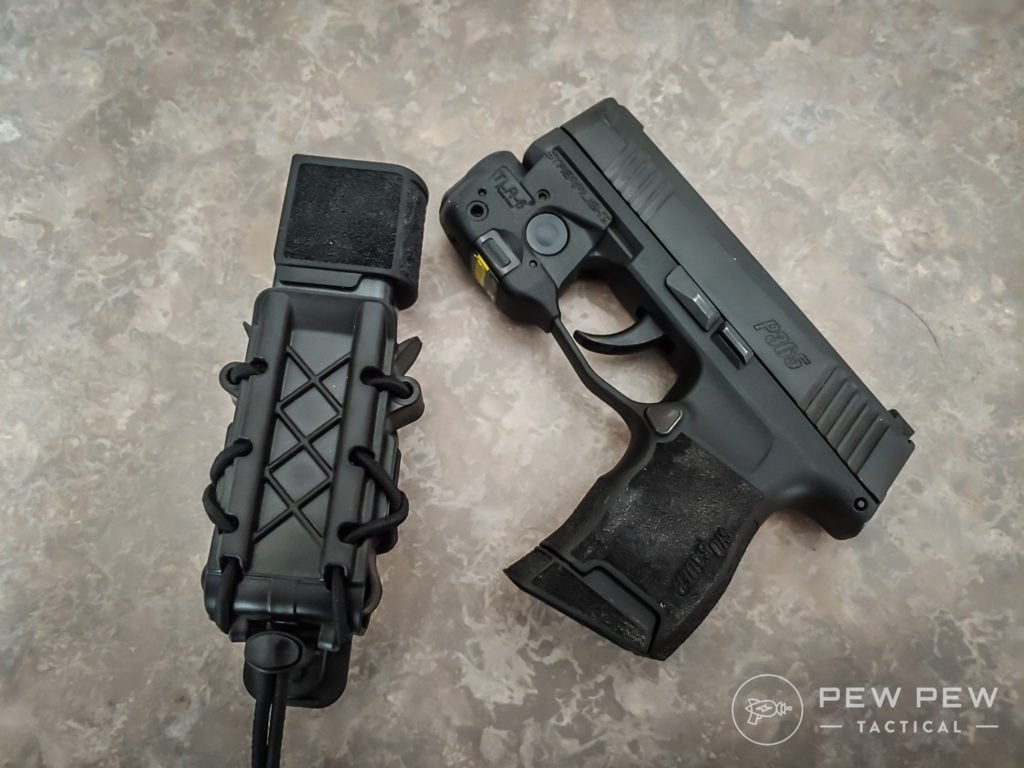 The mag pouch holds the magazines well and retention is top-notch. 
The HSGI TACO polymer pistol pouches fit on my 1.75-inch belts with the U Mount and they are easily transferable to additional platforms. The polymer pistol pouches come in tons of different colors and are cut low enough to accommodate any of the P365 magazines. 
The 15-round magazine is the easiest and quickest to draw when reloading. 
5. SIG 365 Ammunition 
Not to be a SIG fanboy but I respect the idea behind the 365 ammo and how it coincides with the design of the P365. The 365 ammo comes in both 115-grain JHPs and FMJs.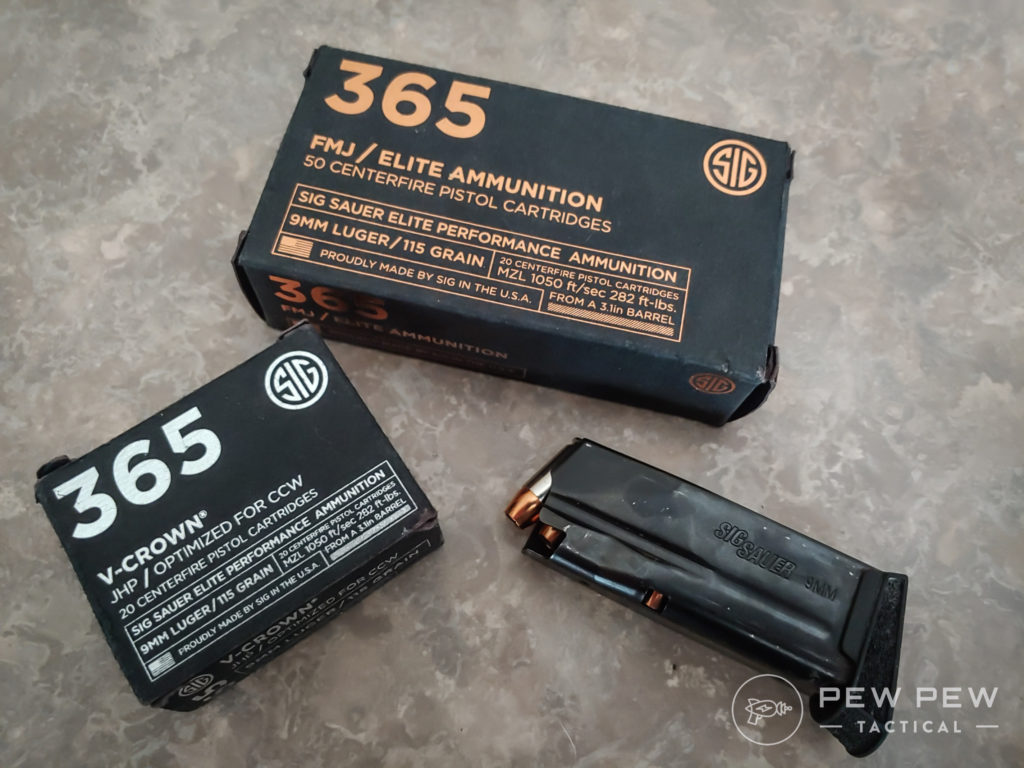 The idea is simple, the FMJs are for training and the JHPs are for self-defense. 
The FMJ loads are designed to be identical to the JHP loads. This comes down to the recoil, as well as the flight of the rounds. In practice, the rounds handle and fire identically.
You can load a magazine randomly with FMJs and JHPs and you'll never notice a difference.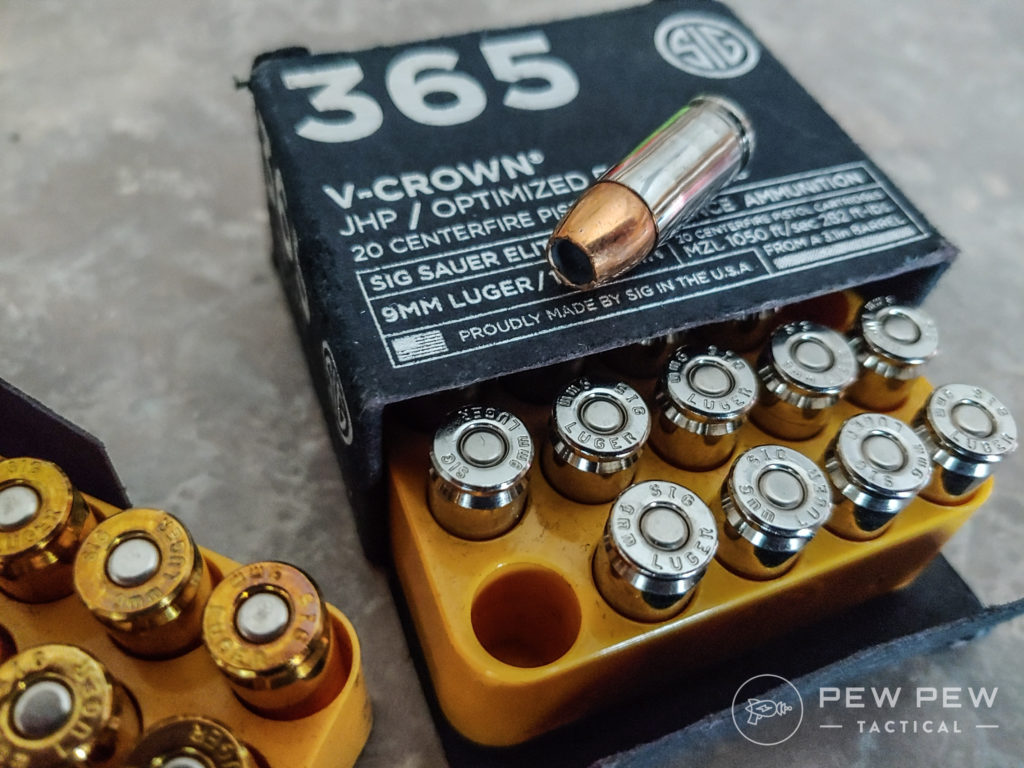 The idea of ammo that is identical between training and defensive ammo isn't new, but I respect the fact that SIG has made a brand of ammo designed for training and defense for short-barreled guns. 
The SIG 365 ammo has very little recoil and muzzle flash is almost eliminated. Defensive ammo in small guns can lead to some mighty muzzle flash as you fire the gun.
This muzzle flash can be incredibly bright and cause some discomfort when you fire in dark environments. 
In terms of carry ammo, I appreciate the ammo being nickel-plated, which will prevent corrosion when carried for extended periods of time. I live in Florida and I'm a big guy who sweats a lot. It only takes a little bit of salty sweat will start causing corrosion issues with ammunition. 
Going Gucci with the P365 
The above is my favorite carry gear, but there is no reason to stop there. The P365 hasn't become as popular as the Glock series, but it's getting there. You can go quite far when it comes to going Gucci with the SIG P365 though. 
Here are just a few ways to go Gucci with your P365. 
6. True Precision SIG Sauer P365 X-Fluted Match Grade Barrel 
The standard barrel is the P365 is already short and compact and many hardly see a reason in making it longer.
Those people don't have imaginations, and obviously, don't have suppressors. The True Precision barrel offers a standard ½ x 28 threaded pitch portion for easy attachment of suppressors.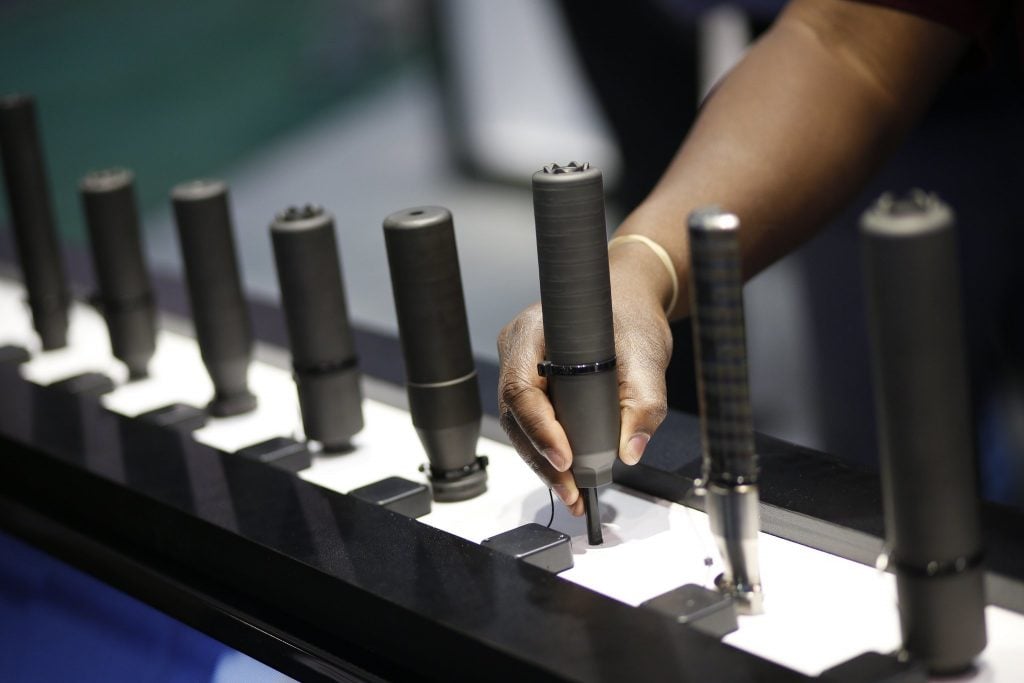 The P365 is an easy gun to suppress and with wet suppressors growing in popularity you can get a very small suppressor for a small gun.
Alternatively, you can attach a 9mm compensator to reduce recoil the gun easier to shoot. Oh, also it looks cool. 
The barrel also comes unthreaded if you want to preserve the shorter barrel and more compact design. 
The True Precision P365 X Fluted Match Grade Barrel does more than give you a threaded barrel. You also get match-grade accuracy and consistency on the part of a proprietary cut broach as well as an 11-degree competition-style target crown. 
Don't we all just love options? These options include a variety of different colors in the most Gucci of choices. This includes Rose Gold, Gold TiN, Spectrum, Stainless, and plenty more.
The True Precision P365 X Fluted match grade barrel gives you both a stylish and functional upgrade. 
7. SIG Sauer P365 Flat Trigger
Do you want to be frustrated? Like really frustrated? Try buying a SIG Sauer OEM produced P365 flat trigger. 
It's always sold out. SIG is restocking them and making them as fast as they seemingly can but the P365 is a popular gun and this trigger is extremely well regarded.

The SIG OEM flat trigger is a direct, drop-in replacement system that delivers a smoother, more consistent trigger pull. 
There are other high-quality flat-faced triggers for the P365 out there, but they are often double the price of the SIG OEM model.
This flat-faced trigger positions your finger lower on the trigger and this gives you more control and leverage. This results in a smoother, more consistent trigger pull. 
The SIG Sauer flat-faced trigger gives you a smoother trigger pull without having to change the factory weight. People with smaller hands and smaller fingers often find it easier to reach flat-faced triggers. Although, the thin grip of the P365 is likely thin enough for even the smallest of hands. 
8. SIG Foxtrot365 White Light 
Why does SIG do this thing where they place the numerical denominator directly behind the model identifier?
They do it without a space and it drives me nuts. The SIG Foxtrot365, for example, is SIG's newest entry into this weird naming mechanism. 
Sorry for the rant, but Stop it Sig, Just Stop it.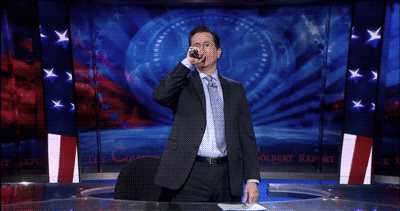 The Foxtrot365 is designed solely for the SIG P365 and its unique proprietary rail system featuring a 100-lumen white light system powered by a CR123 battery. 
The LED-based light attaches over the rail system and runs a switch under the trigger guard. This switch is pressure activated when the weapon is gripped. The light is very small and very lightweight. It sits flush with the P365's frame and matches the gun's lines perfectly. 
The switch is instant and ambidextrous. It's well designed backed by SIG's warranty. 
I mentioned I carry the TLR-6 and there are a few reasons for that. It casts a light further, I prefer the button-based controls, and of course, the included laser is nice. The main benefits of the Foxtrot365 is how small it is.
If you want to minimize your space then the Foxtrot is a better option, plus holsters are easy to find for it. 
9. Truglo Fiber Optic Front and Rear
I've been a big fan of the SIG XRAY3 sights (See no space thing again) and have had no complaints. The P365's sights are outstanding as far as I'm concerned. They glow very brightly, and they work at night and during the day.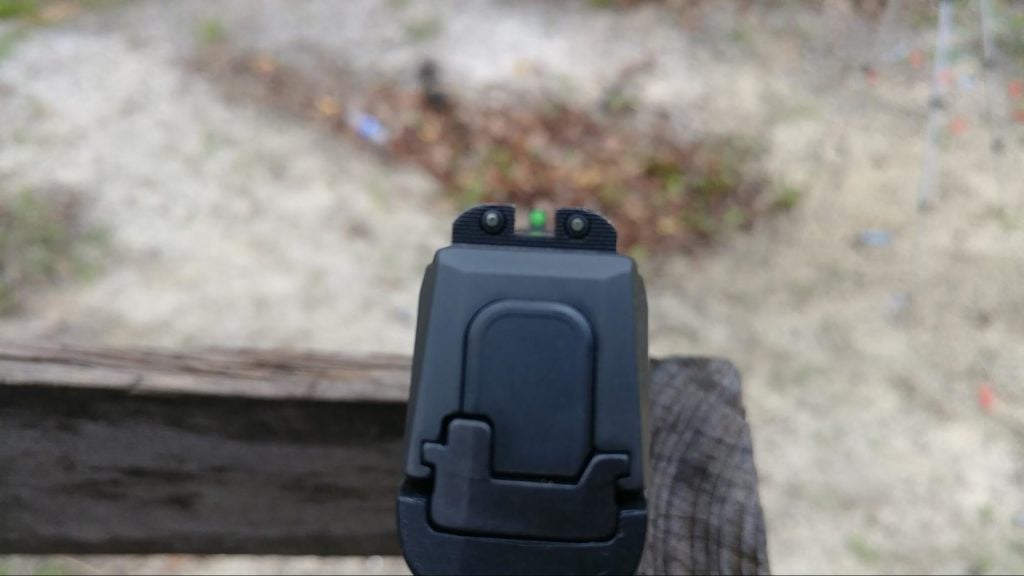 This opinion isn't shared by all though. I've seen complaints pop up here and there, as well as some who don't like night sights on their guns. 
For those looking for something different the TruGlo fiber optic front and rear are an excellent choice. SIG produces similar sights for most weapons and they utilize numbers to differentiate their front and rear sights. 
The P365 uses a SIG #6 front sight and a #8 rear sight. The TruGlo Fiber optic sights meet those designations and are conveniently packaged together.
The front sight is a bright red and the rear sights are green. This contrast of colors makes it easy to pick up the front sight and quick to get on target. 
The TruGlo Fiber Optic front and rear sights are made from CNC-machined steel, so they are well made and will last. The TruGlo sights are designed for daylight use but are high visibility and easy to see in low light as well. 
They are a great alternative if you aren't a big fan of the stock XRAY3 sights. 
Aftermarket Success
You can normally judge the success of a gun by its aftermarket. The more popular a weapon is the larger the aftermarket for it will be.
The P365 has proven to be extremely popular and to this day you still see them priced near MSRP. 
Most innovative CCW gun [2018]
This popularity is generating a growing aftermarket of holsters, triggers, lights, and other gear.
The P365 has even introduced a larger variant, the P365 XL with an optic's cut, longer grip, and longer barrel. SIG is even introducing the Romeo Zero, a miniature red dot for the P365 XL. We'll cover those another time though!
I'm willing to bet several of our readers have their own P365s. If so, what upgrades have you made? Let us know below. If you want to see some other badass CCW pistols, take a look at the Best Concealed Carry Guns!
[ad_2]