[ad_1]

 Thru-hikers and section hikers generally have a story about what brought them to the trail. The Appalachian Trail in unique is swarming with folklore, so practically absolutely everyone remembers the initially story they heard about the two,000+ mile footpath that weaves uninterrupted from Georgia to Maine. Occasionally the magic is captivated in a single moment for other people of us, various situations more than time bound us closer and closer to the trail.
Personally, I identified magic in the words and stories of other people. When I study "A Stroll in the Woods" by Bill Bryson I was intrigued. I believed possibly one particular day I'd hike it. But then Jennifer Pharr Davis gave me a story I could actually attach too–one that I could see myself in–and I knew it was game more than for me. I had to make the trek. For lots of of life's greatest endeavors, that is all it requires: someone's story to inspire us, blaze a path, and serve as a beacon to guide us.
Mainly because stories are so strong, under I've listed some of the strong stories that set the stage for my 2020 thru-hike. It is not all-inclusive, but it consists of the books that had the most strong effects on me and my dreams. A lot of of you might have currently study these stories, but if not, I extremely advise.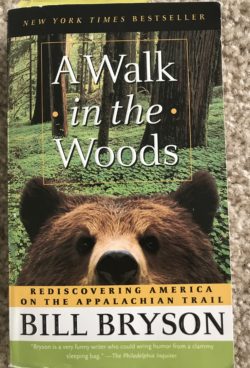 The Books that Brought Me to the AT
"A Stroll in the Woods" by Bill Bryson
This is an iconic AT book. Bryson, in all his wit and humor, describes his try at thru-hiking the trail with his old pal Katz. The two men–neither in peak physical situation nor completely conscious of the issues that lay ahead of them–bumble along (most of) the trail and discover a lot about themselves along the way. Bryson alternates his hilarious encounters with stories and information about the AT, eventually major to a profound respect for the trail and its hikers.

"Becoming Odyssa" by Jennifer Pharr Davis
As a kid you hear so lots of stories about a young hero (typically a boy) who feels out of spot in society, but ultimately discovers his strength and turns into the hero he was destined to turn out to be (consider Hercules, Rudolph the Red-nosed Reindeer, and so on.). Jennifer Pharr Davis is that (s)hero. This story follows her initially thru-hiking knowledge as she "finds" herself–her strength, beauty, self-confidence, passion, and values. I adore this story for how nicely it captures the trail and for the inspiring way it clearly altered the course of Pharr Davis' life. A actually fantastic study, in particular for young girls contemplating a thru-hike.

"AWOL on the Appalachian Trail" by David Miller


Yet another fantastic story of discovering oneself on the trail. Miller describes his thru-hike the way you could count on a former laptop programmer to describe it: in seriously certain detail. I might as nicely have been correct there with him. In addition, Miller does not hold back in describing the issues of thru-hiking. You study this and you really feel like you get a fairly fantastic sense of the mess you are acquiring your self into.

"Grandma Gatewood's Walk" by Ben Montgomery


If you want to thru-hike the AT and you are unfamiliar with "Grandma" Emma Gatewood, study this story. She's an AT legend.

"Walking Residence: A Woman's Pilgrimage on the Appalachian Trail" by Kelly Winters
Yet another fantastic story of how a journey on the AT mirrored a journey to self-discovery.

"North" by Scott Jurek


For these who do not know, Jurek is a badass in the ultramarathon globe. He's won various of the world's toughest endurance races (ahem, SEVEN TIME Western States champion, excuse me??), all on an completely plant-primarily based diet plan (side note: I advise the newest documentary on Netflix named "The Game Changers," in particular if you are contemplating a plant-primarily based diet plan and have queries). Anyway, in 2015 he set the quickest recognized time on the AT in 46 days, eight hours, and 7 minutes (breaking Pharr Davis' earlier record) and wrote about it in "North." His wife, Jenny, also writes sections of the book from her point of view crewing for him. It is a enjoyable study.

"The Pursuit of Endurance" by Jennifer Pharr Davis


Jennifer Pharr Davis held the quickest recognized time for the AT for four years (46 days, 11 hours, and 20 minutes), all with out operating a single step. She's a total badass. This book shares some of that knowledge, but also discusses other fantastic endurance feats and examines the function that goes into endurance. The endurance athlete in me geeked out fairly tough.
These books had been essential in nudging me closer and closer to the AT, but my hunger for the books is by no means satiated. They give me with a possibility to escape reality and travel to the spot I want to be. That stated, under is a list of my planned future reading. I'm not limiting myself to these reads alone, but they are ones I'm seeking forward to at this time.
My "to read" list:
"Where's the Subsequent Shelter?" by Gary Sizer
I found this one particular though google looking AT books awhile back and it just sounds enjoyable. Tales from the thru-hikes of an unlikely group of mates, what's not to adore?

"Skywalker: Close Encounters on the Appalachian Trail" by Bill Walker
Ok, generally I just adore hearing people's thru-hiking stories. Perhaps I'm living vicariously, what ever.

"Called Once again: A Story of Enjoy and Triumph" by Jennifer Pharr Davis
You might notice a theme right here. What can I say, JPD is a shero.

"Dead Males Hike No Trails" by Rick McKinney
In the wake of a friend's suicide, a man struggling with depression himself finds joy on the trail. Appears like fantastic trial inspiration to me.

"Walking with Spring: The 1st Thru-hike of the Appalachian Trail" by Earl Victor Shaffer
I've heard a lot about this book. Appears iconic. Likely need to study that.

"Appalachian Trials: The Psychological and Emotional Guide to Effectively Thru-hiking the Appalachian Trail" by Zach Davis


If you are reading this on The Trek's web-site (you are) then this selection is self-explanatory. If you do not know why it is self-explanatory just google it.

 (Ok, I'll inform you. Zach Davis runs this web-site.)
"The AT Guide 2019 (or 2020) Northbound" by David Miller


AWOL's AT Guide is stated to be the very best, so this is an clear should-study for my 2020 thru-hike preparations.
Bonus: Although walking up and down the aisles of the public library I identified a book named "The Organic Navigator" by Tristan Gooley. It is about employing clues from your surroundings to fully grasp the geography about you and navigate your self with out the aid of GPS or other technologies. The book is meant to aid folks really feel additional in-tune with their surroundings. I haven't reached previous the initially couple chapters but, but it has helped me be additional mindful when walking about outdoors.
What's your go-to AT book? I'd adore to hear additional suggestions!
Affiliate Disclosure
This web-site consists of affiliate hyperlinks, which suggests The Trek might acquire a percentage of any solution or service you obtain employing the hyperlinks in the articles or ads. The purchaser pays the similar cost as they would otherwise, and your obtain aids to assistance The Trek's ongoing target to serve you high quality backpacking guidance and info. Thanks for your assistance!
To discover additional, please check out the About This Web-site web page.
[ad_2]