[ad_1]

Guns are inanimate objects with no clue whether you're male or female.
That said, not all guns are created equal.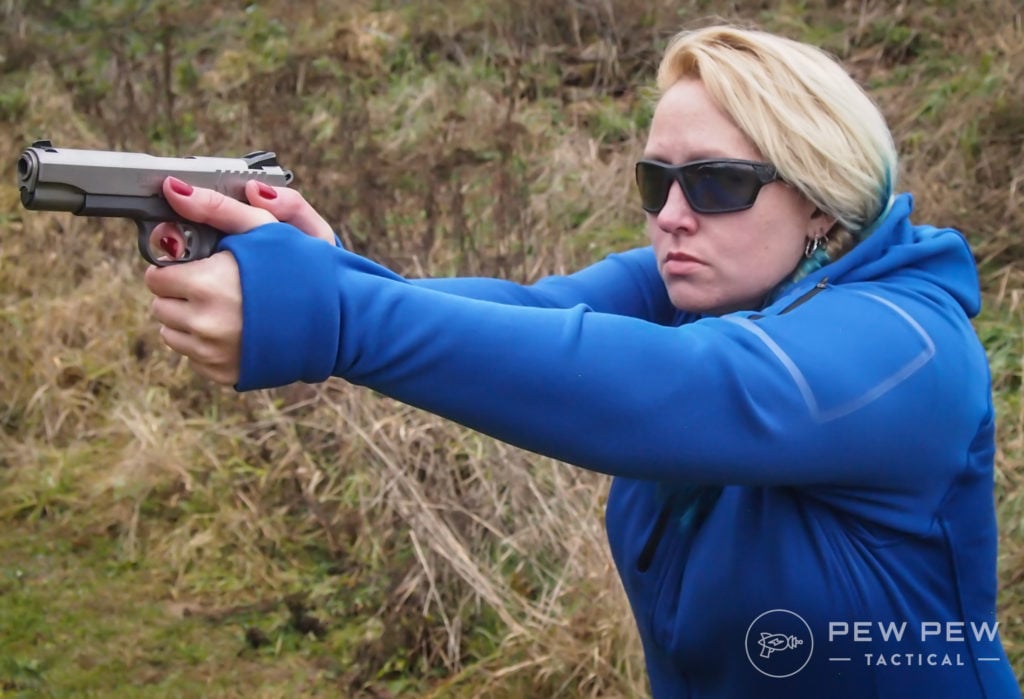 So what handguns are a good idea for female shooters?
We'll give you a hint–they probably aren't pink (though there's always Cerakote painting, if that's your jam…).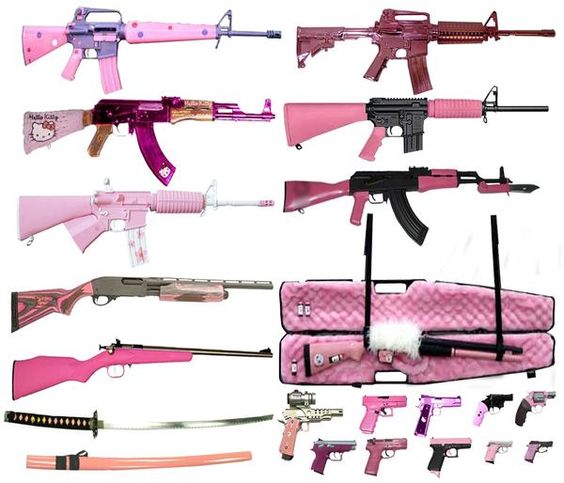 Now let's go over some important things like size, caliber, and necessary skills.  Then of course…my favorite recommendations!
Table of Contents
Loading…
Size Matters
If you're thinking I'm referring to the size of the gun, I'm not.
Not yet, anyway.
This is about the physical size of the shooter. 
Although it is not true in my case, many women out there do have smaller hands. That does not mean they cannot shoot full-sized guns it simply means they will probably have a tougher time finding the right gun for them. 
If a gun does not fit your hands you aren't going to run it as well. It's a matter of basic mechanics.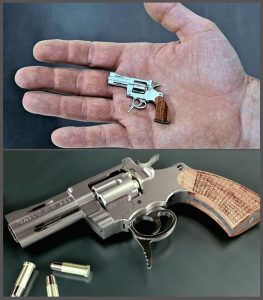 The good news is, fitting a handgun to your hands is a relatively easy task.
When you pick up a handgun your palm should have full contact with the backstrap.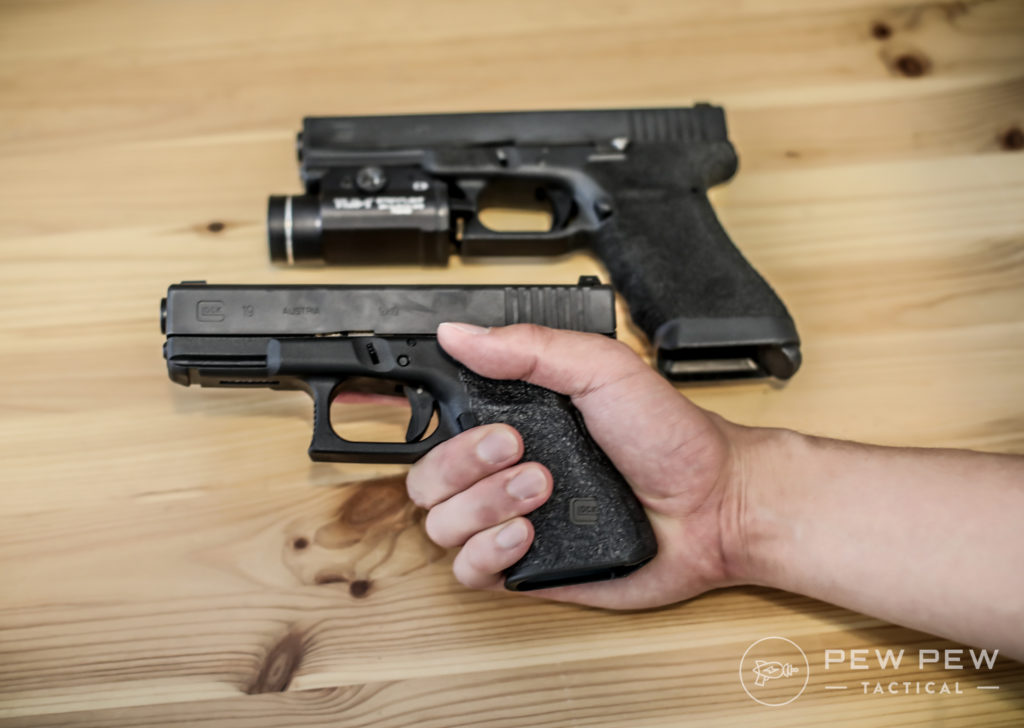 Perhaps more importantly, the bones of your wrist and arm should be in line with the gun's frame, not canted off to one side or at an upward or downward angle. Keeping the bones of your hand and arm in line with the gun does wonders for mitigating recoil and improving overall control.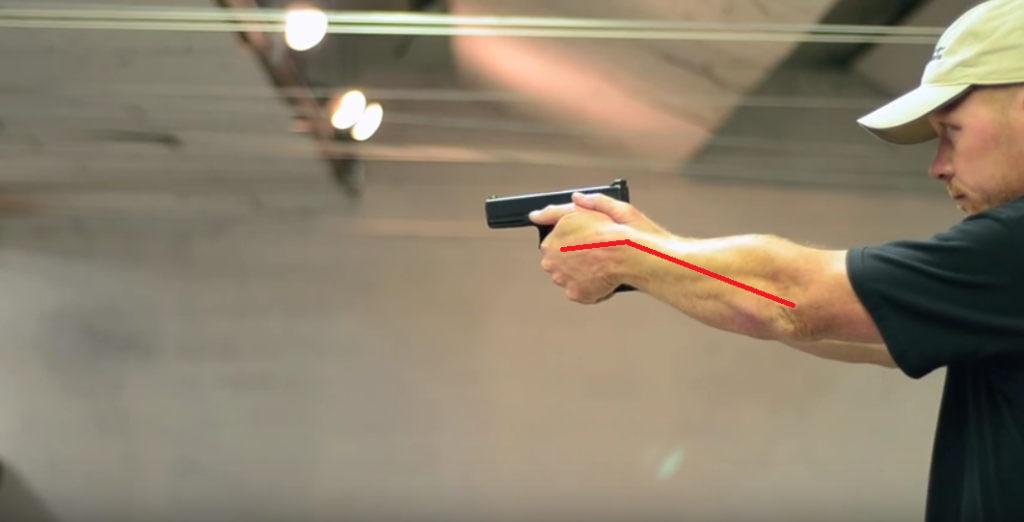 When it comes to triggers and finger placement you'll find there are two schools of thought, one that says the center of your finger should be in contact with the trigger and the other saying to use the first crease of your trigger finger.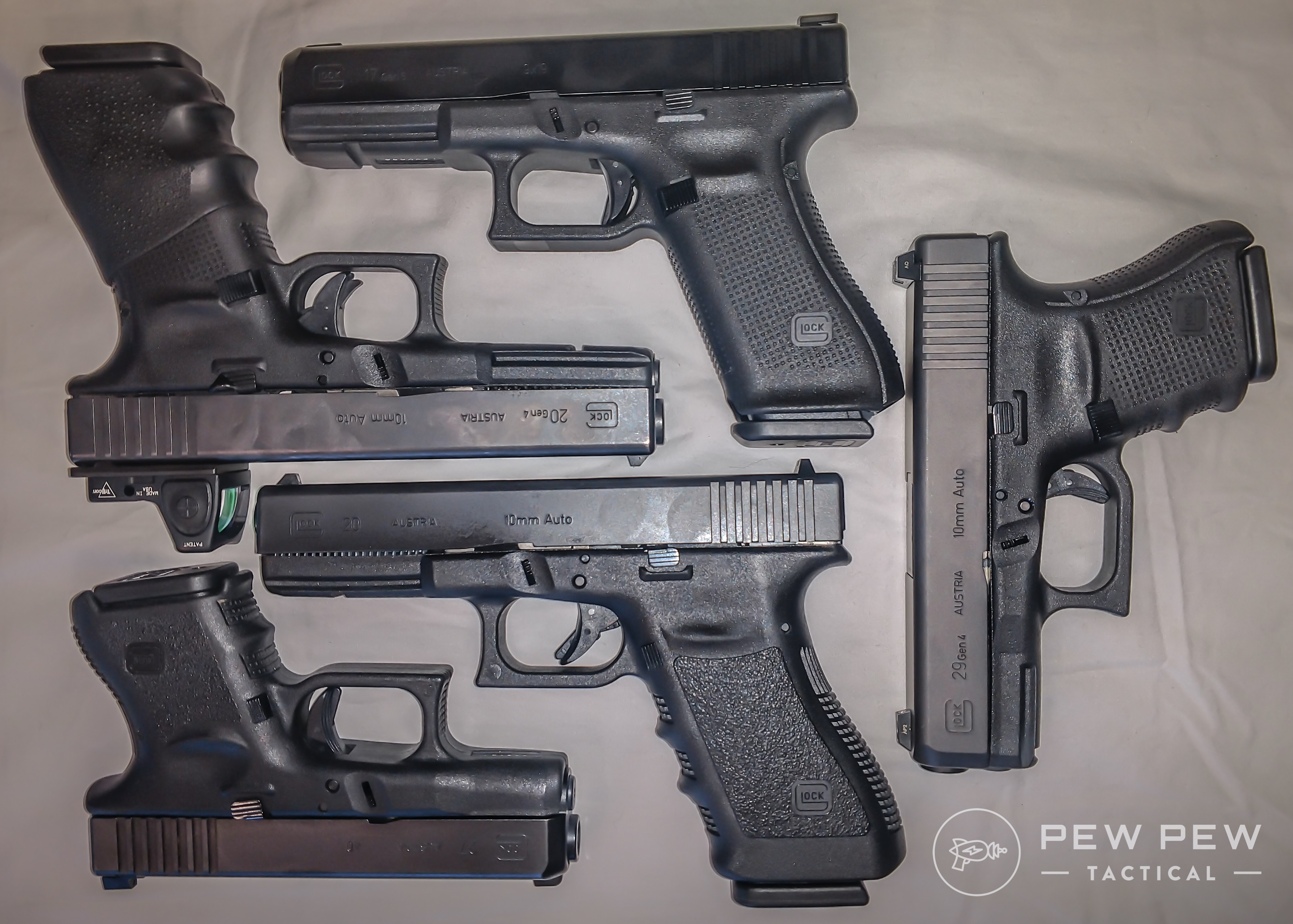 Personally, I believe you're better off using the center of your fingerprint.
With that in mind, when you try a new gun make sure you can easily and naturally place the center of your trigger fingerprint on the face of the trigger. 
This helps you apply a direct, rearward trigger press (or pull, or squeeze, or whatever you want to call it). As long as that trigger moves smoothly straight back it's all good. 
If your trigger finger has trouble reaching that sweet spot, your gun is probably too big (double-stacks are not for everyone). Conversely, if you're awkwardly arching your finger back for a good trigger press, it's too small.
How it looks: when fitting a gun there should be a visible space between the finger and the gun's frame. The trigger finger should not be resting against the frame.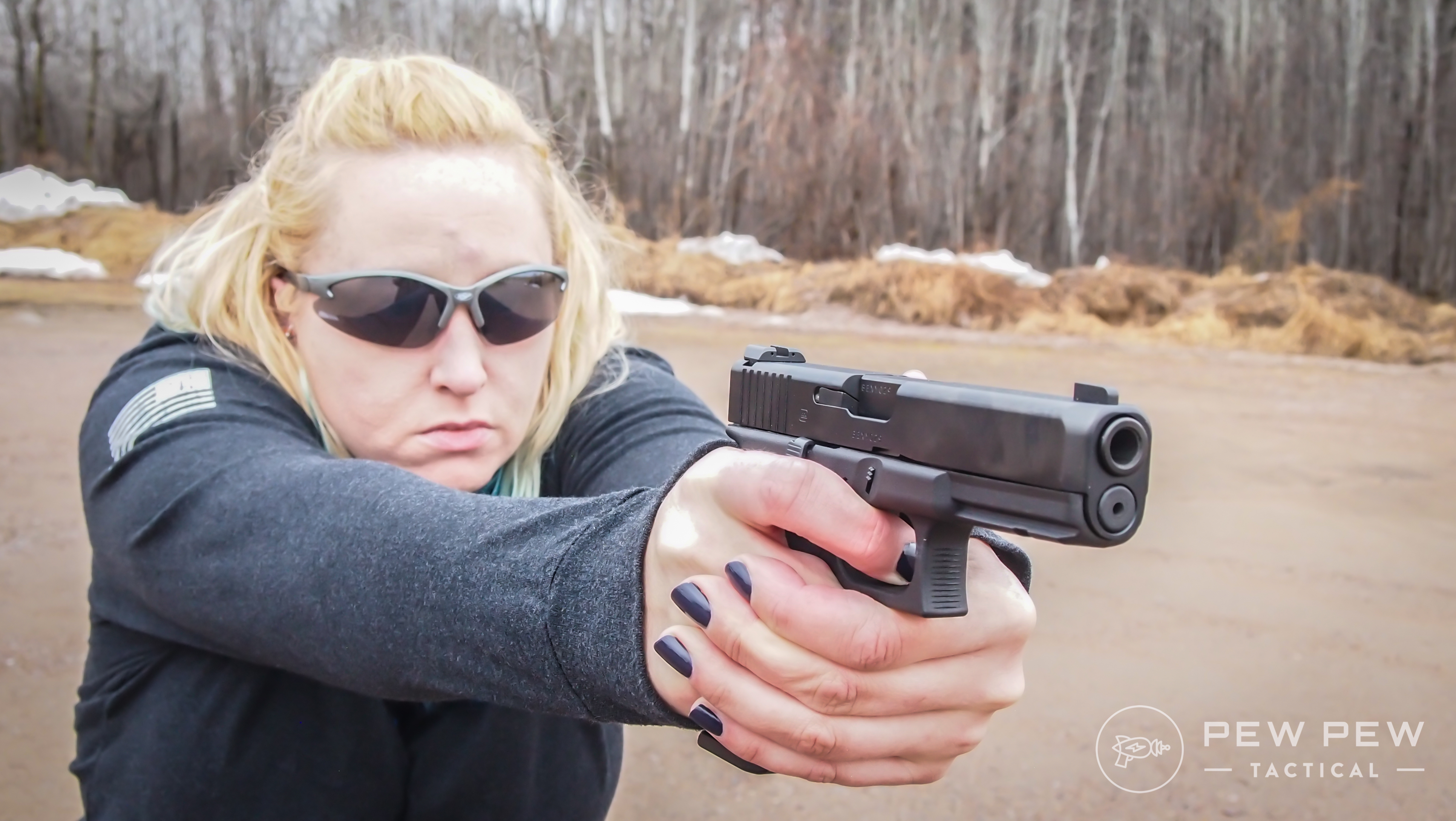 Finally, you should be able to operate the gun's controls without significantly adjusting your grip. A good fit means you can reach and run the safety, magazine release, and decocker–if it has one–without shifting your hands around. 
This goes double for a self-defense gun.
Shifting your grip to operate your gun is going to affect your speed, accuracy, and survival.
Skills Check
Yes, we need to talk about skill.
A shooter's skill absolutely affects their gun choices. 
In fact, those good old boys saying women should shoot revolvers are making a blatantly fatal error in judgment. Revolvers are not easier to use than semi-autos. They're also not foolproof. Revolvers do fail. 
As for the tiny pocket pistols and mouse guns, the recoil sharply and have far more significant muzzle rise than larger guns. Some guns are easier to shoot than others. You can easily learn to shoot any gun you want, but I'd be doing you a disservice if I did not mention the simplicity of guns like Glocks.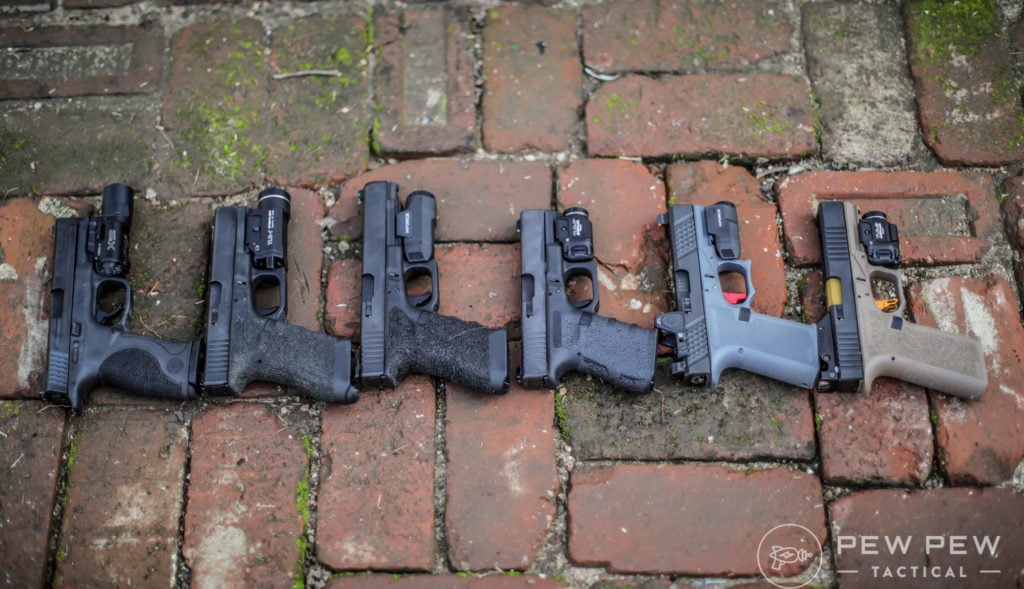 And if you automatically think double-stack when Glocks are mentioned, remember, they do have a number of single-stacks now.
Take your skill level into consideration when choosing a gun. It is accurate to say 9mm guns are softer-recoiling than bigger cartridges like 10mm or .45 ACP. 9mm is a good choice and a great starting point for newbies, too. 
Here is our Guide to Shooting More Accurately which has helped tons of guys and gals alike.
No, you don't need a .380 ACP or a .22 LR, which brings us to our next point.
Caliber
Let's keep this brief. Although .22 LR has long been touted as A Good Thing for new shooters it is not necessary for most people.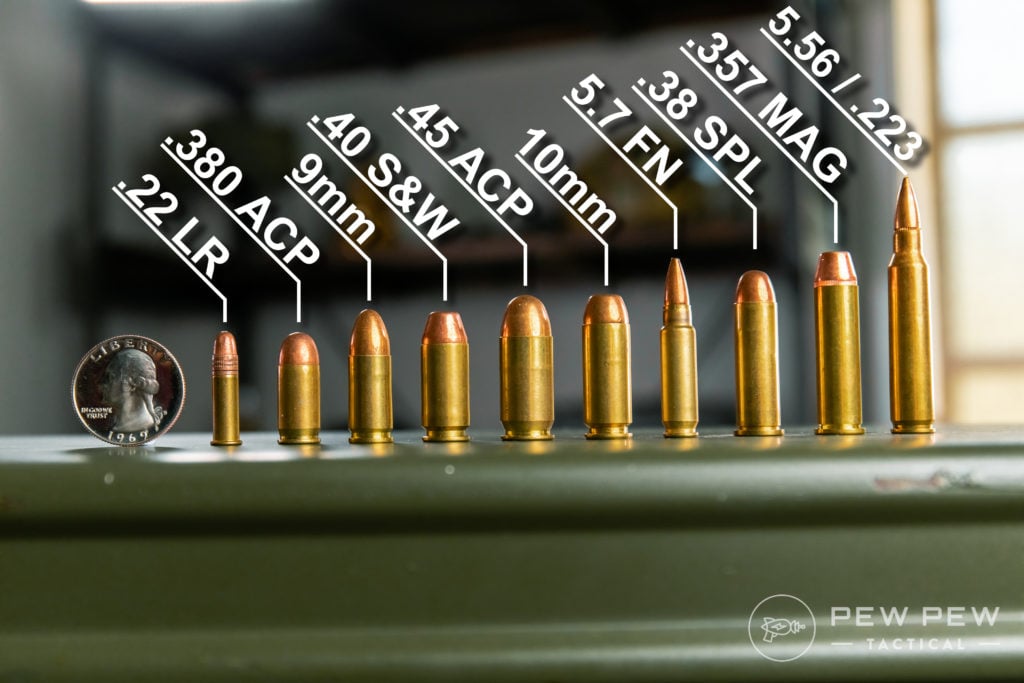 It's great for starting out kids and not a bad idea for a wife, girlfriend, or sister who is noticeably gun-shy. The time I'd pull out a .22 LR for a teenager or adult is when they're visibly afraid.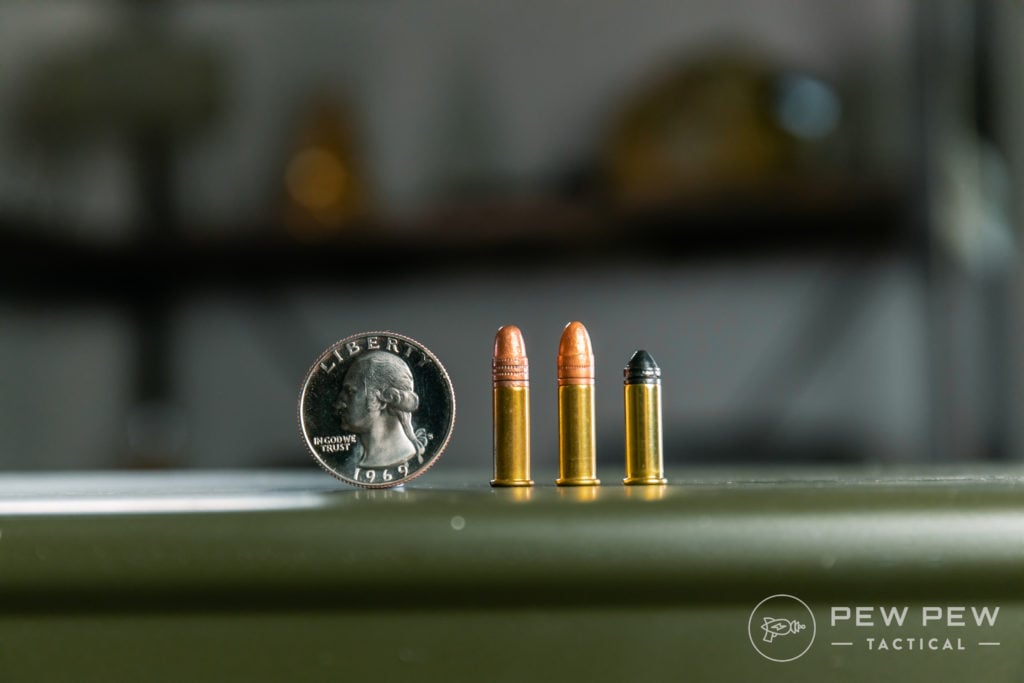 If they're reasonably gung-ho, just start bigger. Failing to shoot a .22 LR as your first gun does not doom you to firearms failure. 
Here's our editor shooting a .22 LR:
Don't limit yourself to the stereotypical tiny calibers frequently recommended for women.
Make 9mm your starting point, or hang out with 9mm for a good, long time.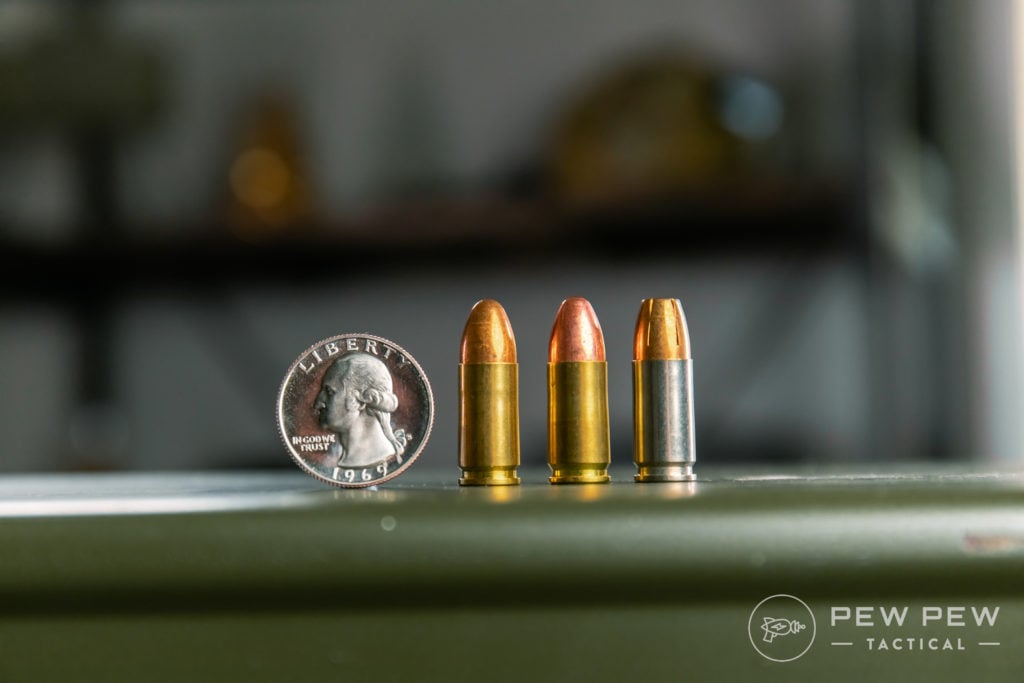 There is usually no reason whatsoever to start smaller especially if you have a good grip and stance.
Here he is with his Glock 19 in 9mm.  Don't worry…video of me coming up next:
Best Handguns for Women
1. Glock 17 and Glock 19, Gen 5
We'll throw the Glock 17 and 19 into one section since they are fairly interchangeable. The 17 is Glock's full-size 9mm and the 19 is their compact model.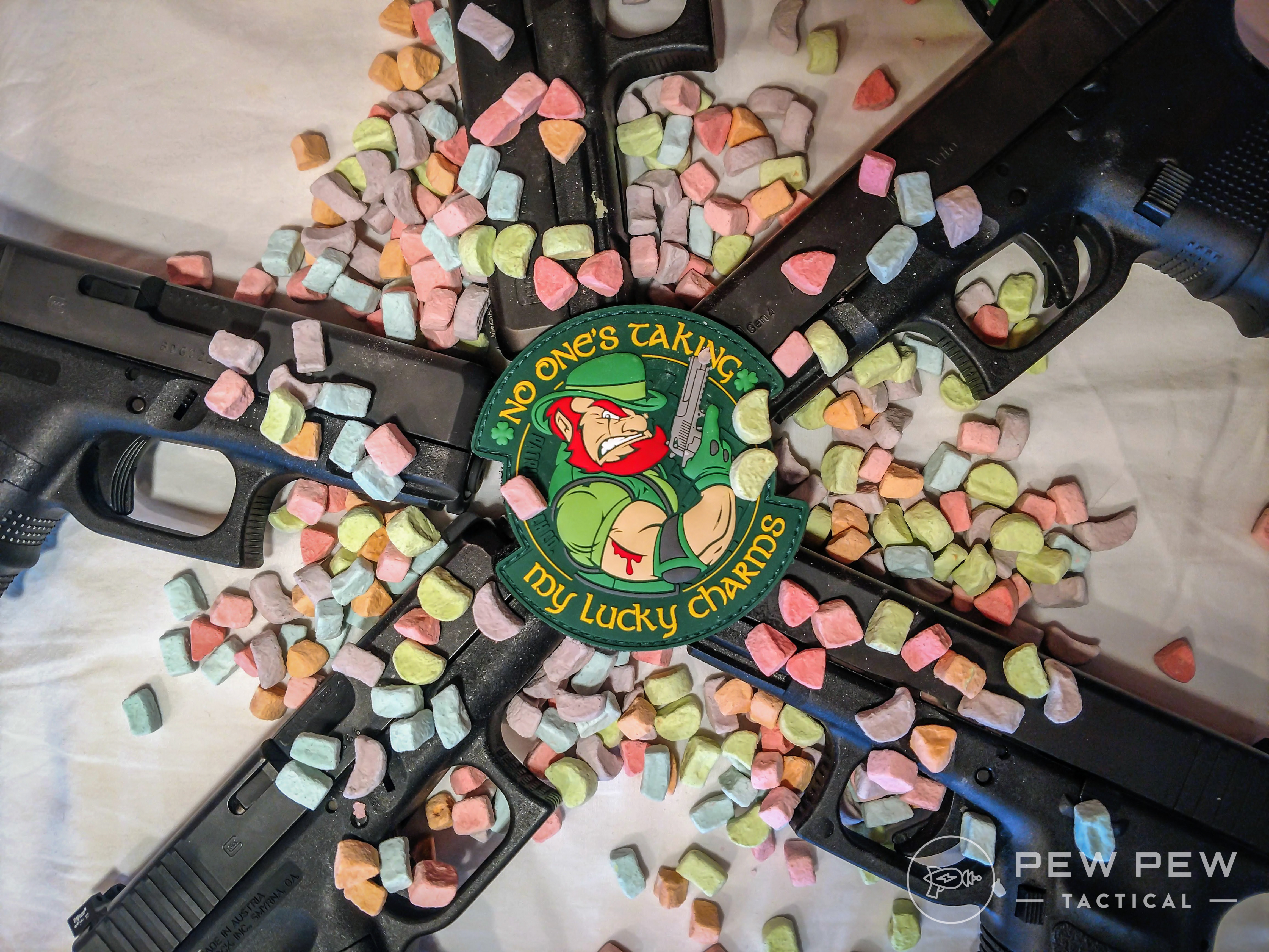 The Glock 17 is known as a wildly popular and oft-assigned duty gun for law enforcement while the Glock 19 is known for concealed carry use.
Here's me with a G19:
They're both double-stacks so if you have truly small hands they might not work for you. 
Glocks are striker-fired guns with basic controls. There is no external safety–Glocks rely on the SAFE Action system, a trio of independently-operating mechanical safeties–which reduces the number of controls you need to operate. 
With a Glock, you just need to run the magazine release. There's no grip safety, no decocker, just a straight-forward system. 
Here's the surprise: the majority of you can conceal the 17. You do not have to carry a compact or sub-compact pistol. It's a matter of making the necessary concessions with your wardrobe and finding the right holster. That's key.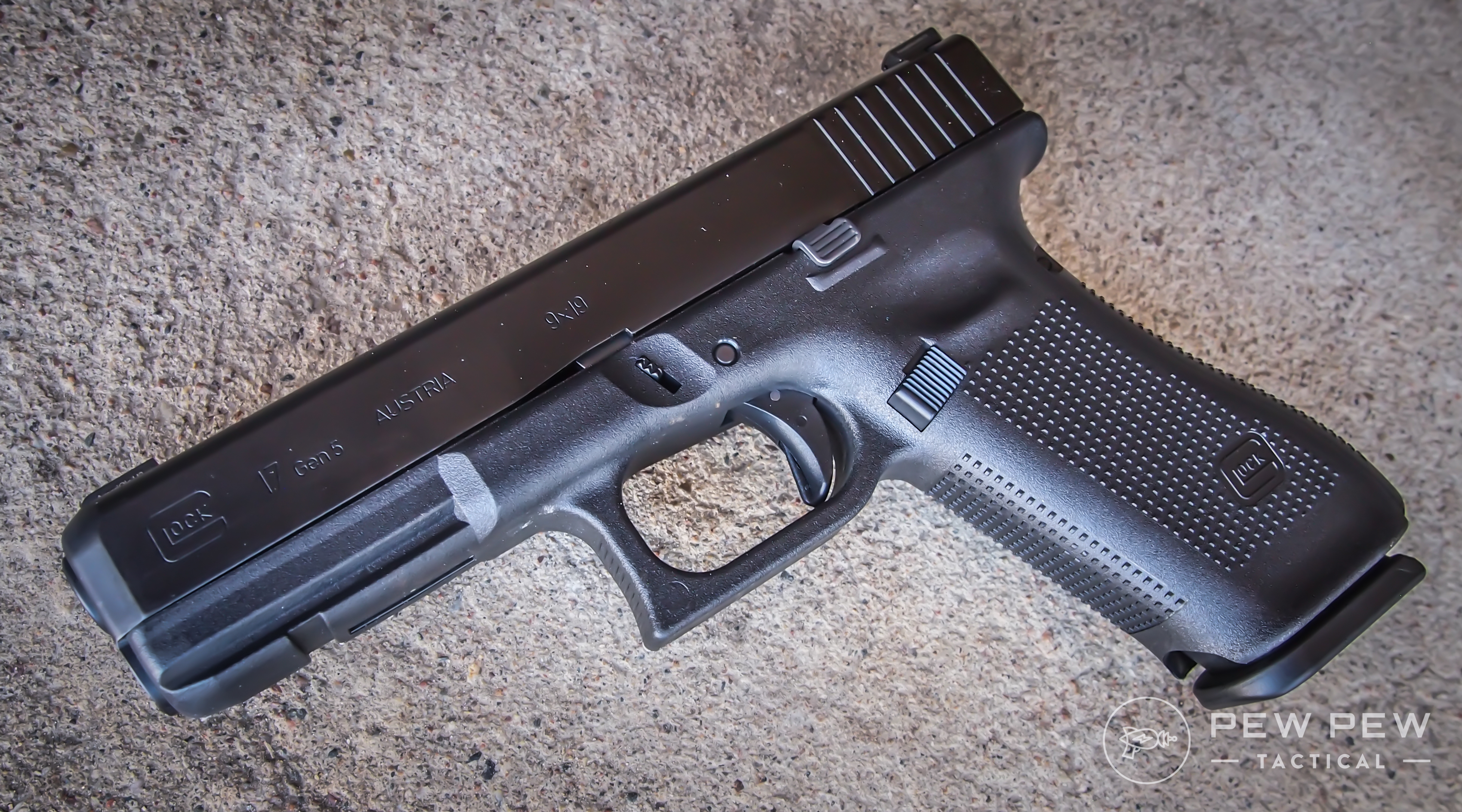 But if you would like a compact gun the polymer Glock 19 is a great choice. It has a 15-round capacity, weighs 21.16 ounces empty, and has an overall length of 7.36 inches.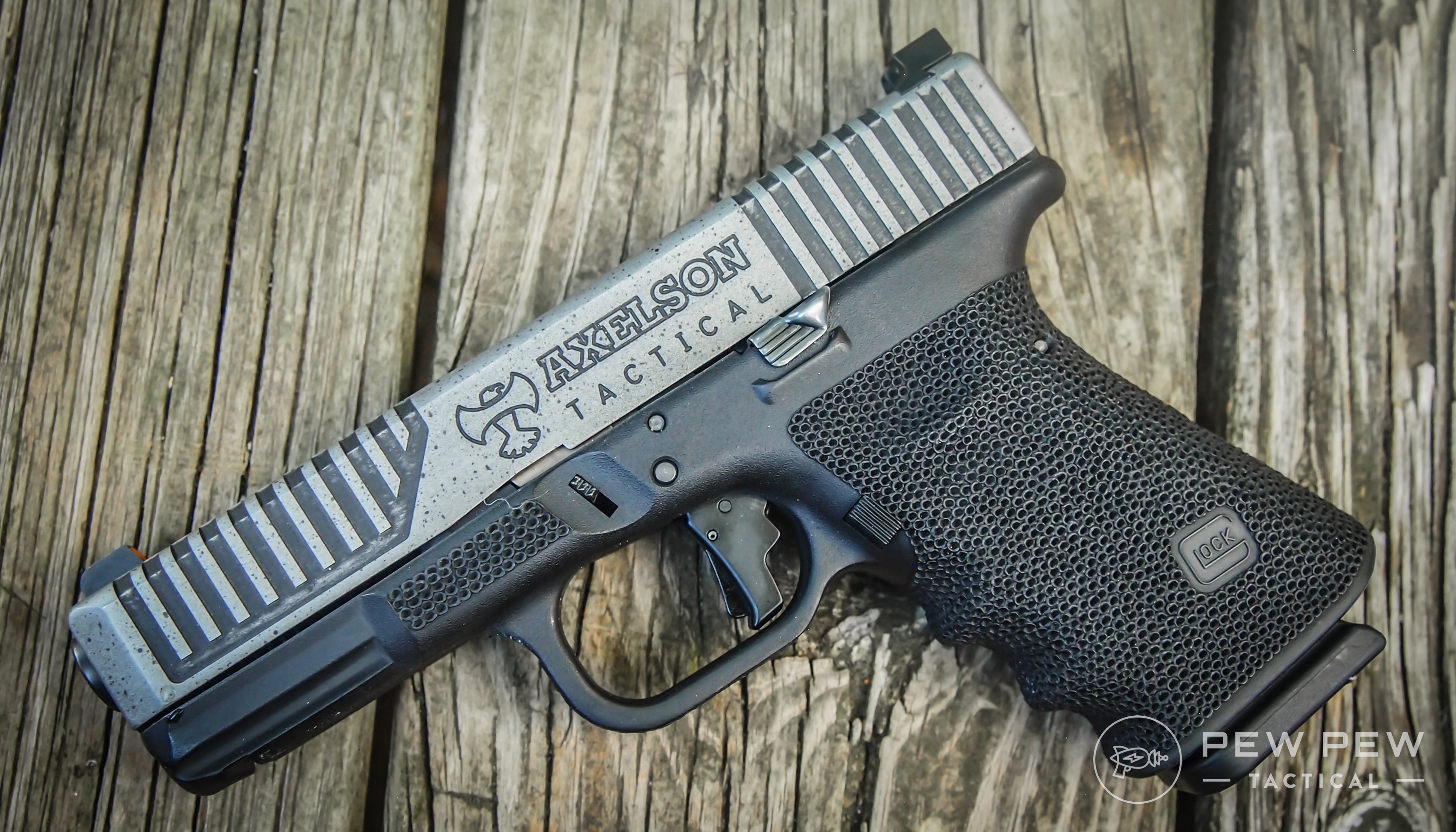 Glocks are reliable, accurate guns with a well-deserved solid reputation to back them. It might be a cliché but I absolutely recommend Glocks to women looking for a first handgun.
What's your thoughts on the Glock 17/19?
2. Ruger SR1911
Now we're jumping right into 1911s.
It's a fallacy that women cannot run 1911s or that new female shooters cannot run 1911s. They're really not that complex. Do they require a bit more finesse and knowledge than striker-fired Glocks? Yes, but it isn't that difficult.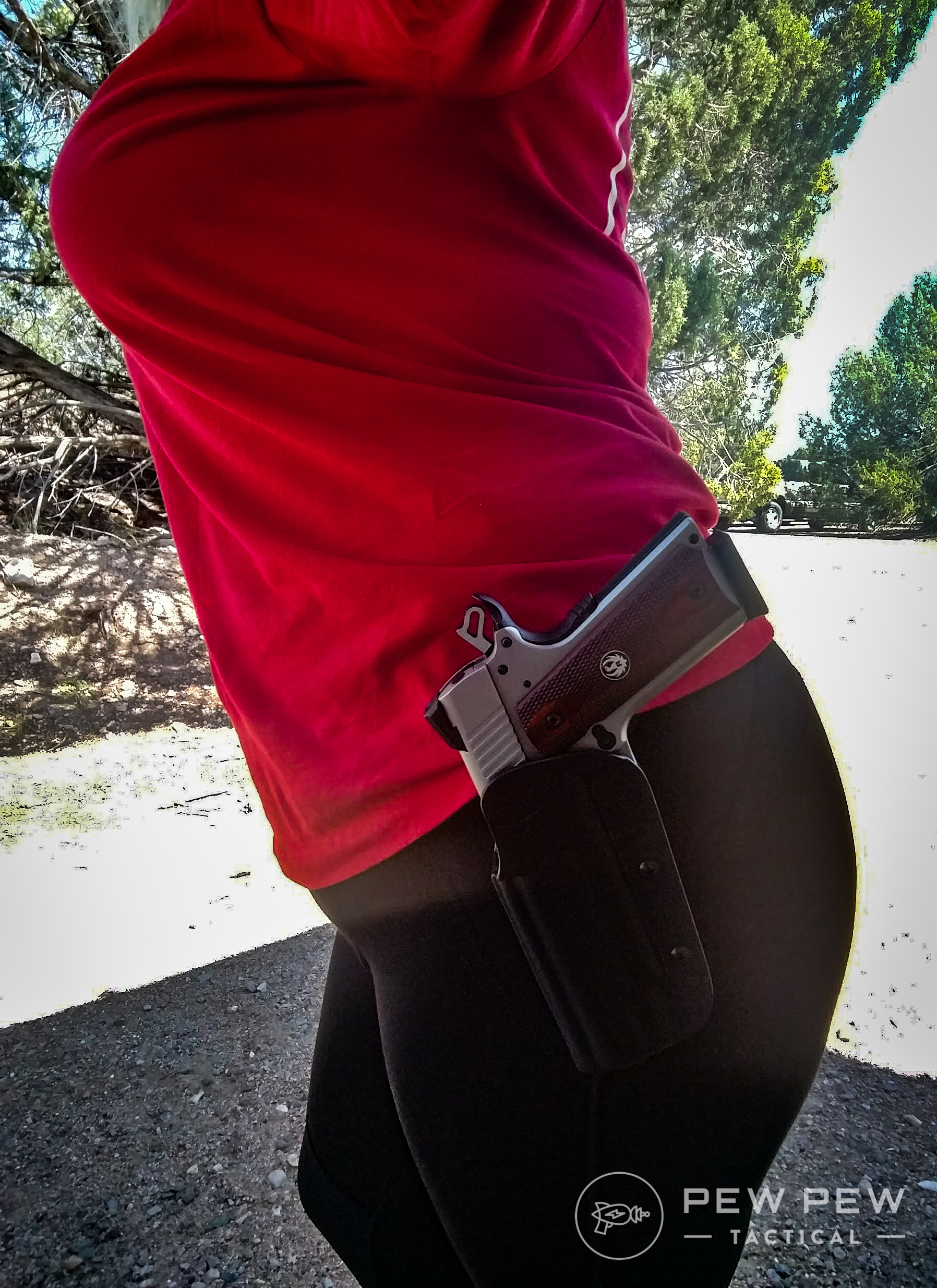 The Ruger SR1911 is offered in the classic .45 ACP chambering as well as 9mm and 10mm. I have all three but the Lightweight Commander in 9mm is the focus here. 
It's also my teenage daughter's gun. She is quite petite and her fingers are almost two inches shorter than mine. While she can run every gun I hand her–despite her small hands–the slim single-stack SR1911 in 9mm is the proper fit. For her, it was love at first shot.
You do sacrifice capacity with single-stacks. The Ruger Lightweight Commander SR1911 holds 9 rounds–plus one if you keep one chambered–so you should learn to carry a spare magazine. Actually, you should carry a spare mag no matter what, but I digress. 
This 9mm SR1911 is 7.75 inches long, 5.45 inches tall, and 1.34 inches wide. It's a Commander, meaning it has a 4.25-inch barrel, and it is fairly light at 29.3 ounces. Heavier than the Glock? At first blush, yes, but not when that Glock is loaded.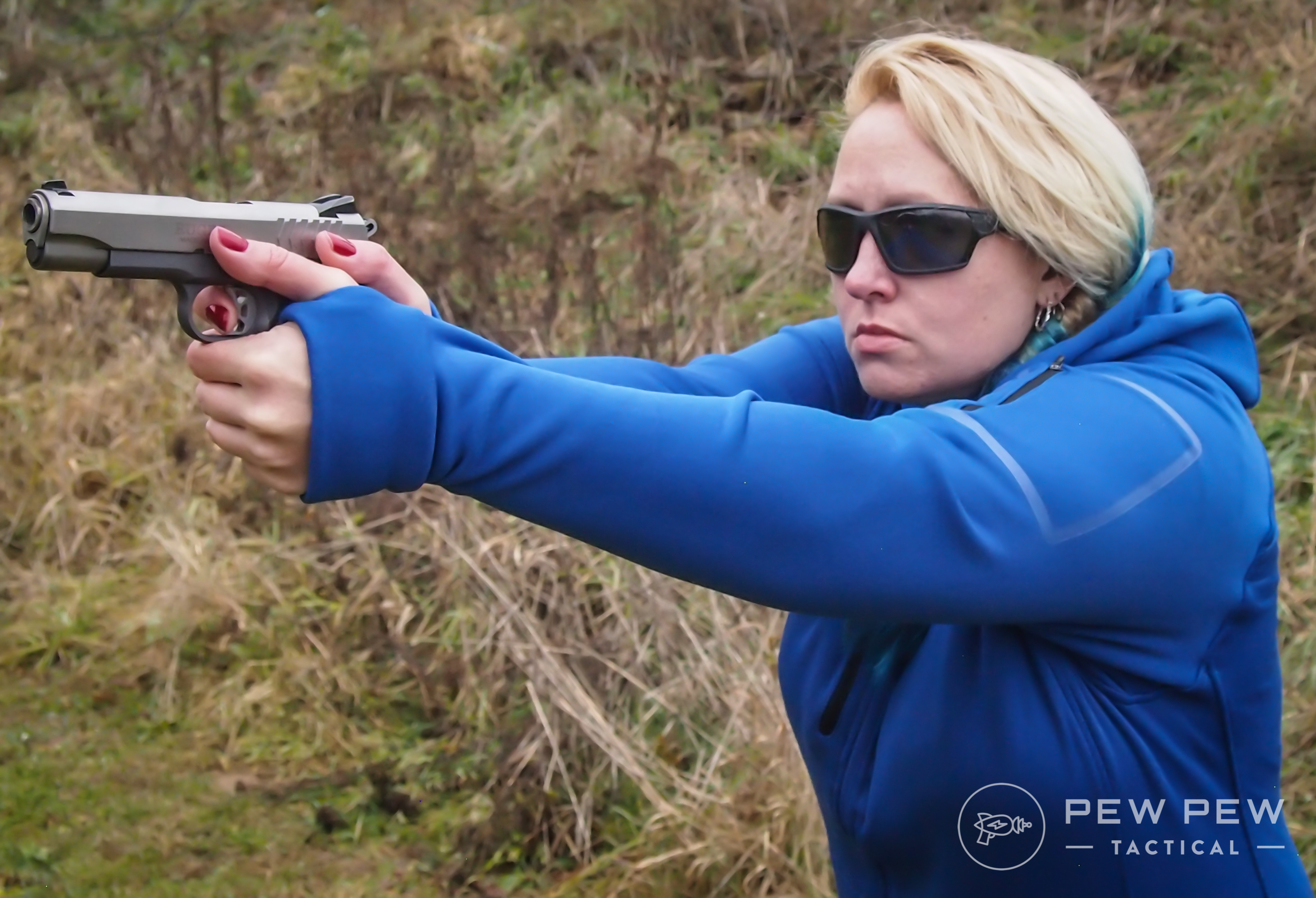 Because this is a 1911 it's hammer-fired and does have both a grip safety and an external thumb safety. If you find the black, rubberized grip panels are too thick it's easy to switch them out for slimmer panels. 
That's the beauty of 1911s, actually: the ease with which you can swap out panels to reduce or add to grip thickness. This is a precise, reliable pistol. I'd recommend it to anyone (obviously, since my daughter has one).
3. SIG Sauer P226 Legion
Notice this is the Legion, not the original P226 Nitron.
There's nothing wrong with the Nitron–I have one and it's a good gun–but the Legion's performance beats it handily. 
The SIG P226 Legion is a full-sized gun so although it is possible to conceal it – I've done it – it is a bit of a challenge. It's offered in 9mm, .357 SIG, and .40 Smith & Wesson. Sure, 9mm rocks, but don't discount the .40 Smith & Wesson.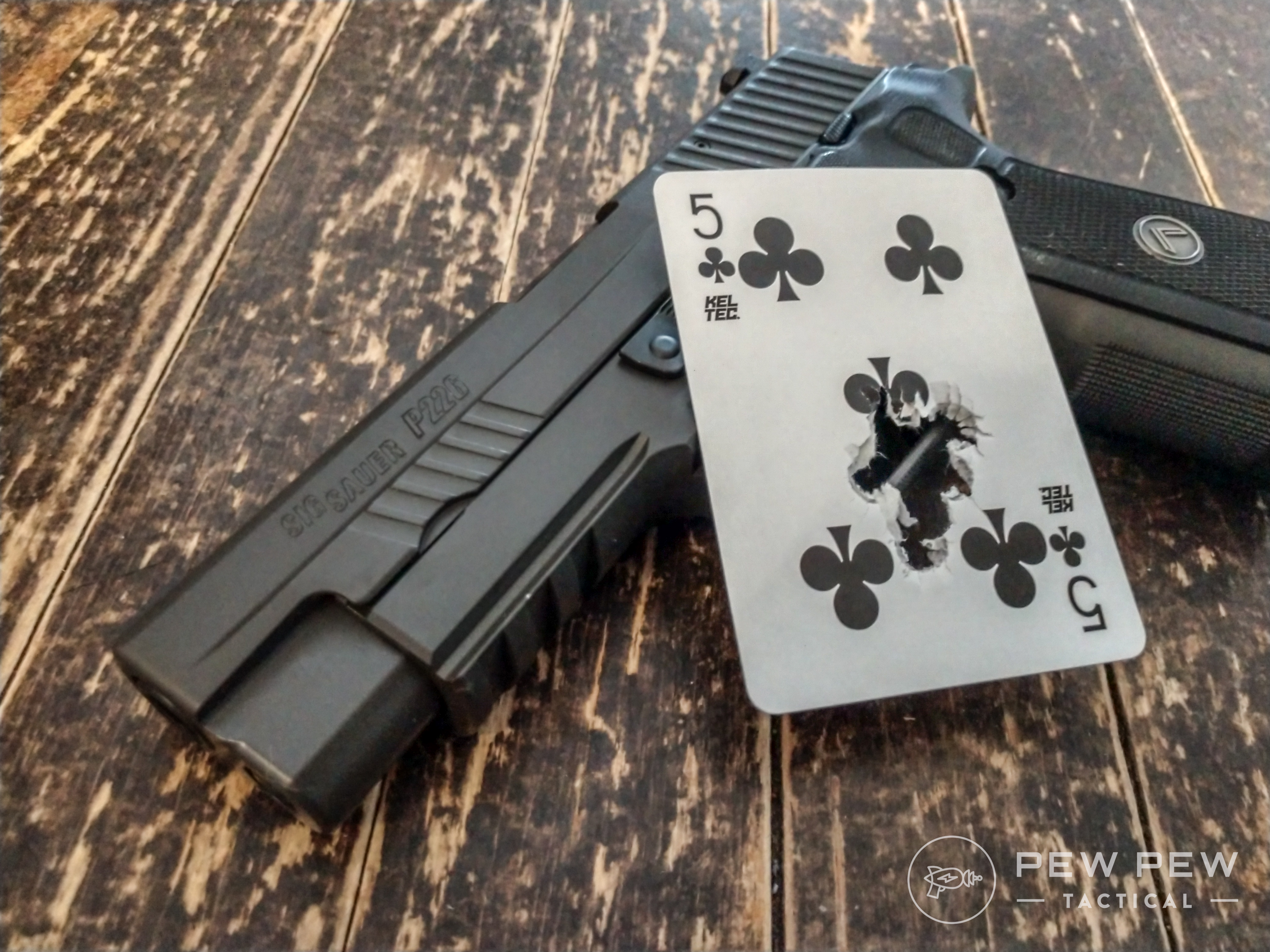 Like to admit it or not the .40 does have a ballistic edge over the 9mm. Whether that edge is worth the increased recoil and expense is a matter of personal opinion.
The P226 Legion is an alloy-frame gun with a stainless steel slide. It has an overall length of 8.0 inches, an overall height of 5.5 inches, and a width of 1.5 inches. It weighs 34 ounces empty. 
Perhaps the best feature of the Legion model is its Grayguns-designed trigger which is truly a thing of beauty. I adore the trigger on my P226 Legion. It has a beautifully smooth pull and crisp break. Basically, it's one of my favorite double-actions currently on the market.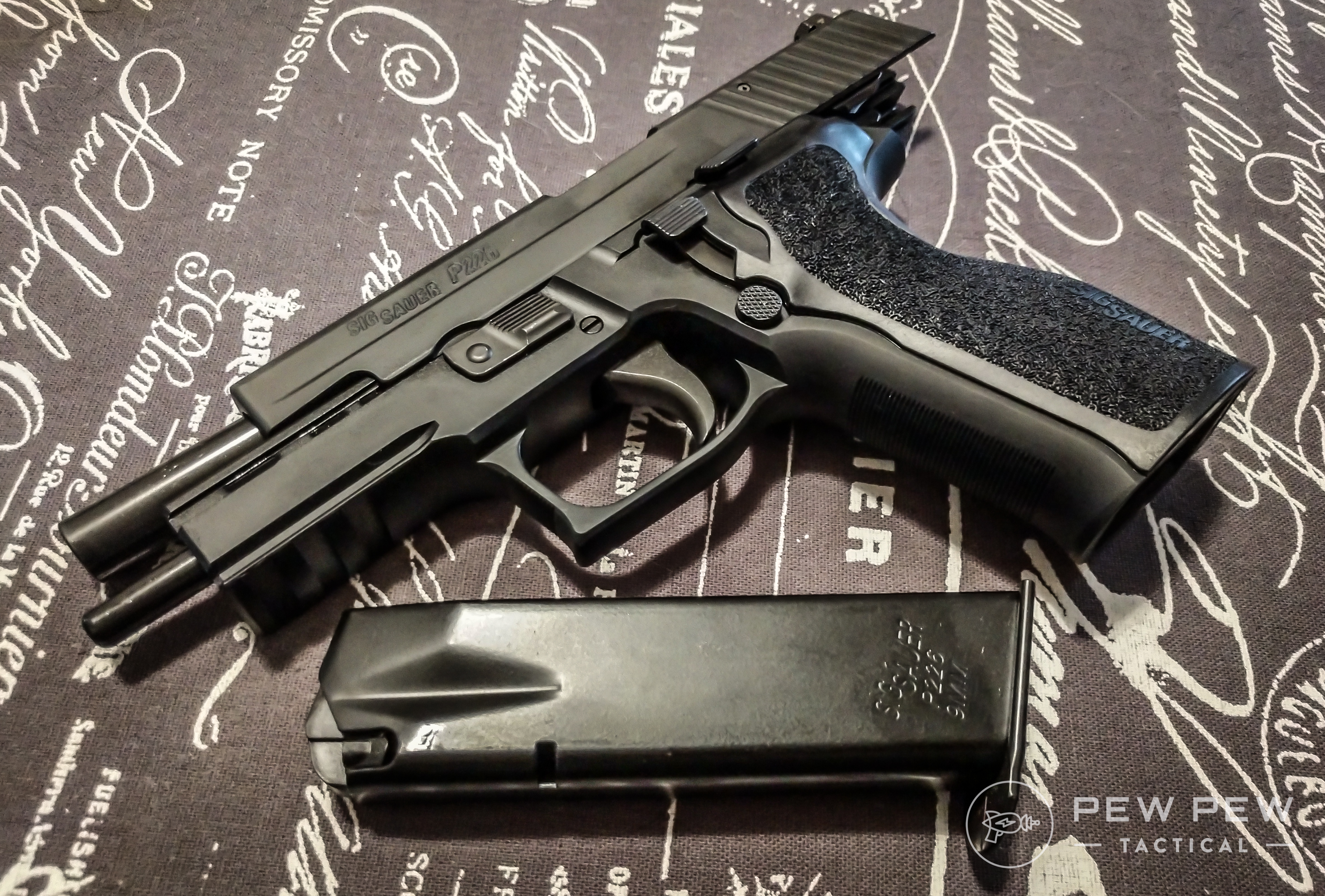 This is a semi-automatic, double-action/single-action gun. That means you can fire it either single-action (SA) or double-action (DA) and you can choose to fire the first shot DA with follow-up shots SA. It also has a decocker. 
Aside from its kickass trigger, the Legion has a reduced, contoured beavertail, aggressive front strap checkering, and an X-Five undercut on the trigger guard. The decocker and slide catch lever–that's what SIG calls it, so don't complain here–are also low-profile to reduce snags. 
Where the P226 Nitron is designed for reliable performance and accuracy the Legion is enhanced to deliver that same reliability with superior comfort and precision. And does it ever deliver.
If you want a gun with additional layers of external safety but you don't want a 1911, check out the SIG P226 Legion. It's my favorite SIG handgun for self-defense use.
If you want something a bit smaller in hammer-fired, DA-only, try the SIG P250; if you want something striker-fired try the P320.
4. Glock 48
Yes, there are two Glock listings in this article.
The aforementioned 17/19 double-stacks are great for shooters with the hand size and preference to run them but this one's a single-stack. It's also one of Glock's latest pistols and it would be a shame to leave it out.
The Glock 48 comes in the original Silver Slide two-tone model and the classic Glock black-on-black. As it so happens I have both, because this model rocks. 
Normally I'm a double-stack fan all the way. I even own a number of double-stack 1911s. So when Glock launched this single-stack I was prepared to dislike it but ended up loving it. I even carried it while driving during my recent cross-country move.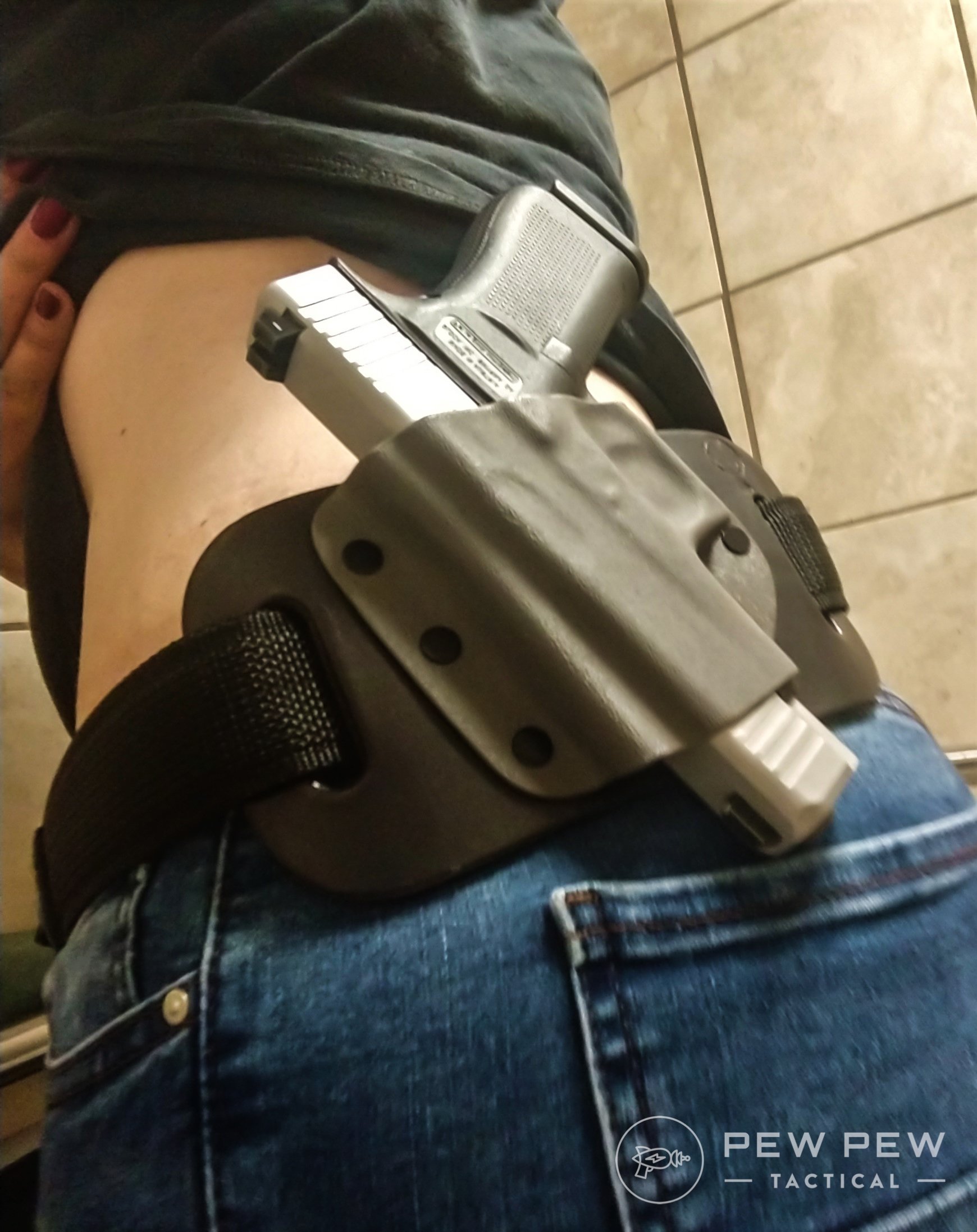 This model is compact but not exactly tiny. It's 7.28-inches long, 5.04-inches tall, and 1.10-inches wide. The G48 barrel is just under one inch longer than the G43X barrel; other than that they're the same gun.
So if you're here wondering about the 43X that's the difference.
Barrel length. 
The G48 is chambered in 9mm, has a 10-round capacity, and is crazy accurate. Despite my larger hands and longer fingers it fits me perfectly and became a preferred pistol of mine thanks to its consistently precise performance. Of course, it's also reliable. It's a Glock.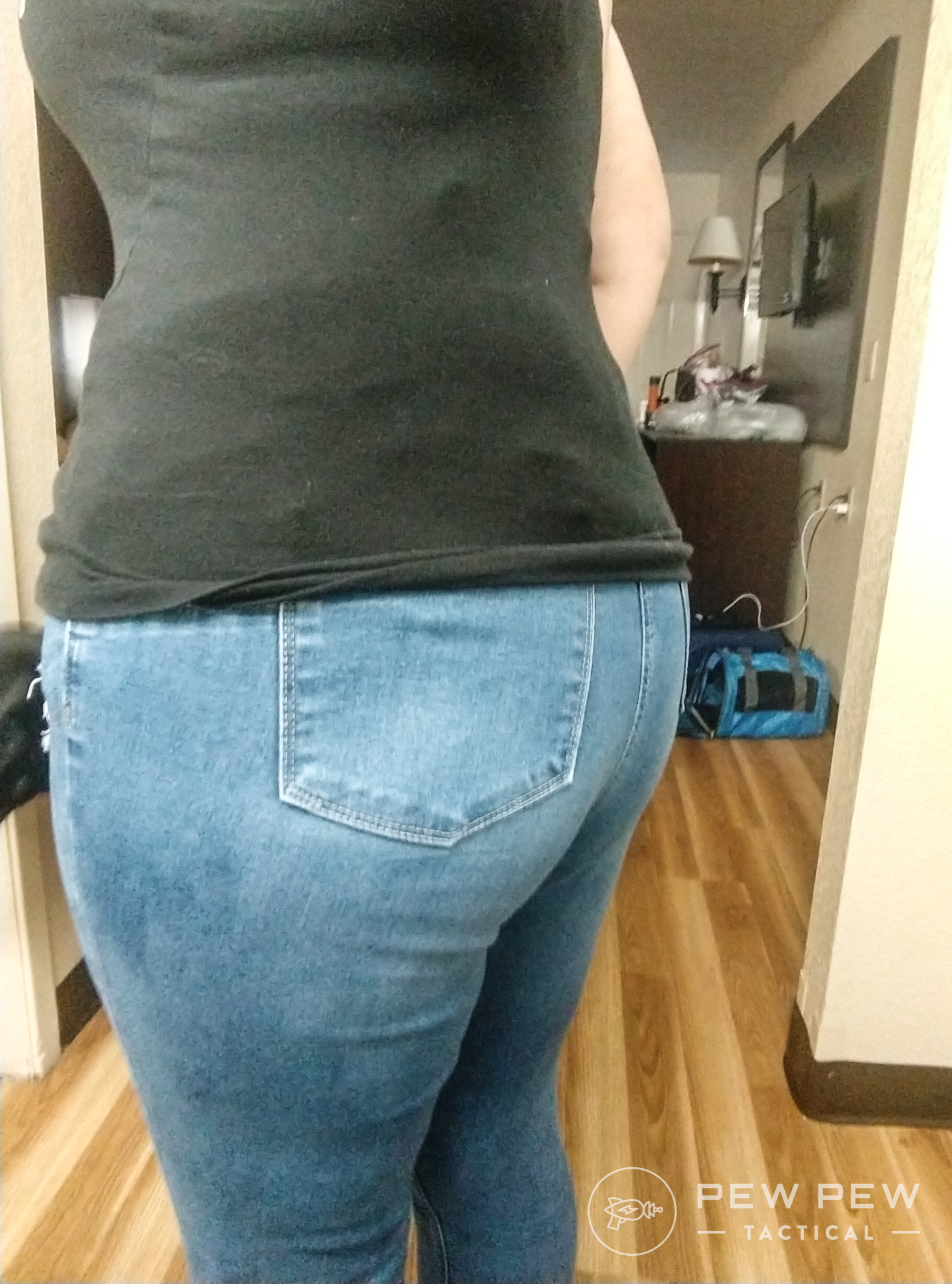 5. Walther PPQ
First impressions matter, even with guns, and my first impression of the Walther PPQ was along the lines of "wow is that ugly." 
The PPQ isn't just a blocky little pistol, it's lumpy. Imagine my surprise when I picked it up and discovered it's comfortable, a fantastic fit for my hands, and fun to run. Even better, it's an accurate, reliable pistol. This is one of those guns people tend not to think of when shopping for guns but it is an excellent choice.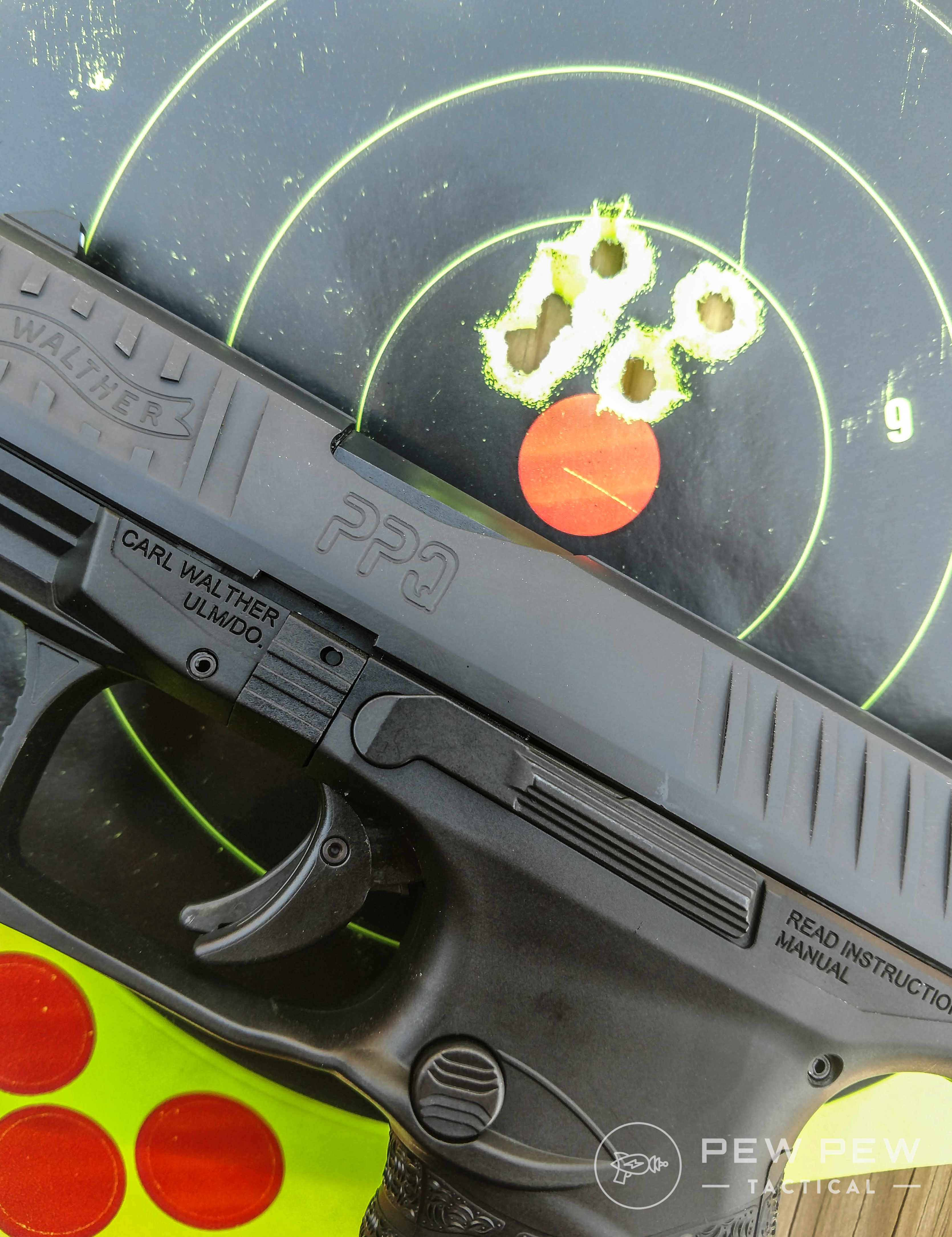 The Walther PPQ has a four-inch barrel, an overall length of 7.1-inches, and an overall height of 5.3-inches. It's 1.3-inches wide, making it slimmer than some and slightly thicker than others, and weighs 21.5 ounces empty. Of course, it's chambered in 9mm and has a 15-round capacity.
One thing that makes this a good choice is its ambidextrous slide stop and reversible magazine release. It isn't the only gun out there with those options but it is one of the better 9mm carry guns that can be tailored to right or left-handed shooters. 
As it turns out the rather ugly, lumpy, textured grip feels good in my hands. And although I typically hate to say a gun is inherently accurate, this time it fits. Don't forget Walther when you're handgun shopping. They make some great guns.
Runners Up
A few quick shout-outs. If you want a revolver, try the Smith & Wesson Model 66 in .357 Magnum or the Ruger GP100 which is also offered in .357 Magnum and a greater 7-round capacity.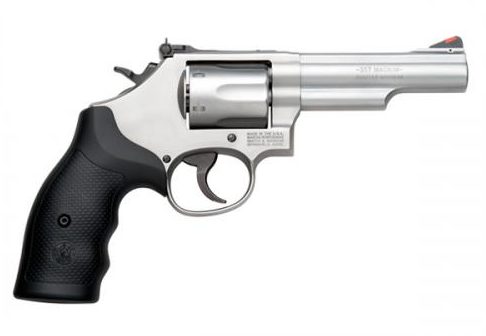 And if you have your heart set on .380 ACP, the Ruger LCP II is a major improvement over the original LCP and a good option for a backup gun (BUG). 
Check out more in our Best Concealed Carry Revolvers if that's your thing.
For arthritic hands, the Smith & Wesson M&P 380 Shield EZ works nicely because the slide really does rack more easily and it's an accurate pistol. I'm not a fan of the grip safety on that model but if it works for you, go for it.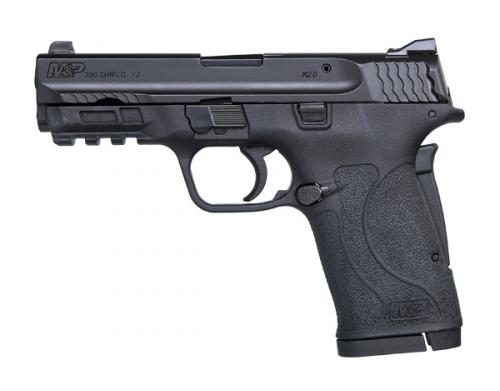 Parting Shots
Now you're wondering a few things. Where's the Smith & Wesson Shield? What about the Mossberg MC1SC or the SIG P365? If you're in "but muh…" mode, knock it off. 
There's limited space here and we've already extended it well beyond capacity. Go to the range. Try different handguns. Choose carefully–and choose your own gun.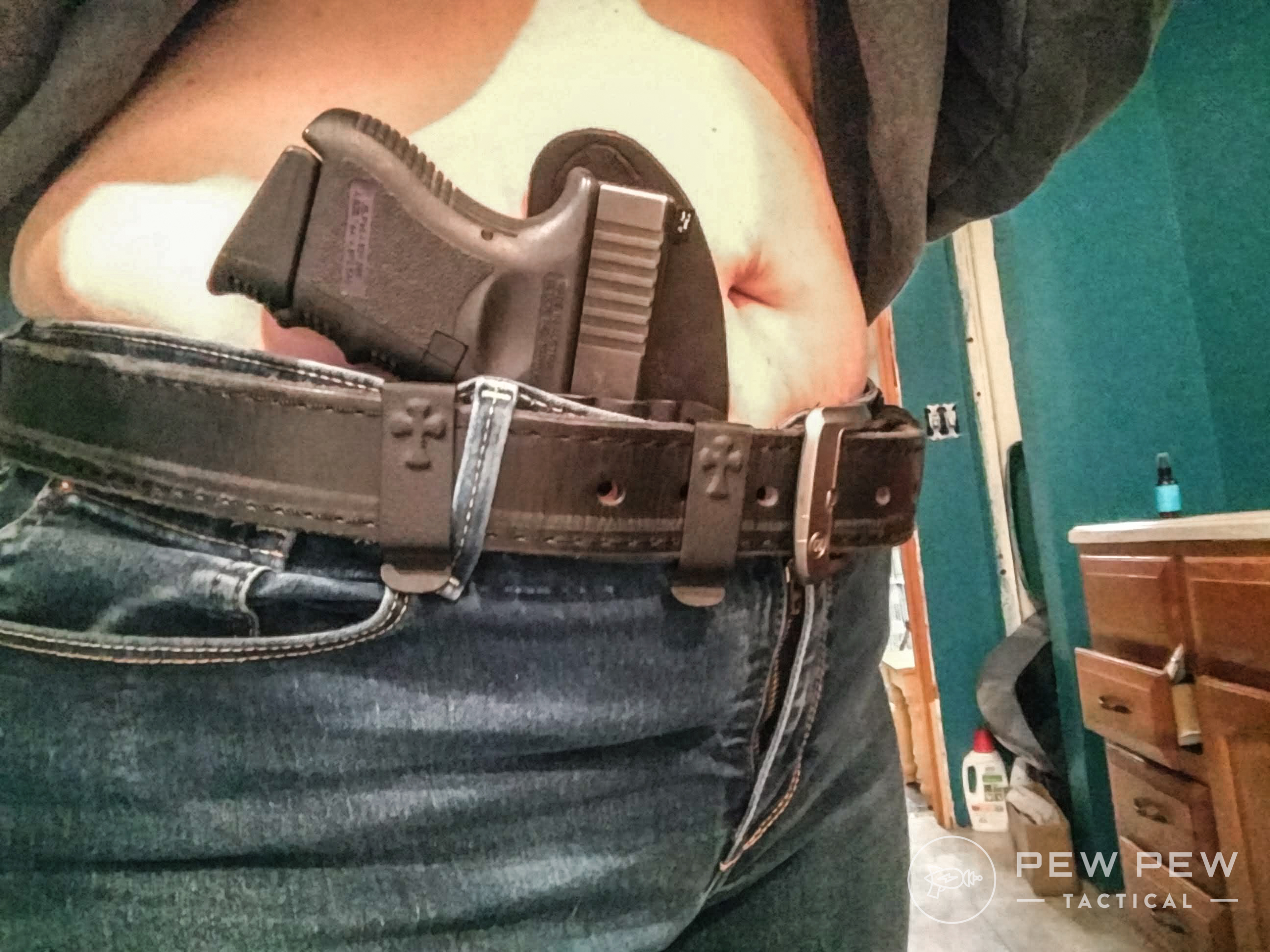 Your dad, boyfriend, husband, or brother might mean well but they cannot and should not choose your gun for you. Only you know what does and doesn't fit your hand.
Only you know what gun you will actually train with and carry.
A gun living in the safe is no good at all.
(Editor: We do love the P365!  Check out the full review of that here).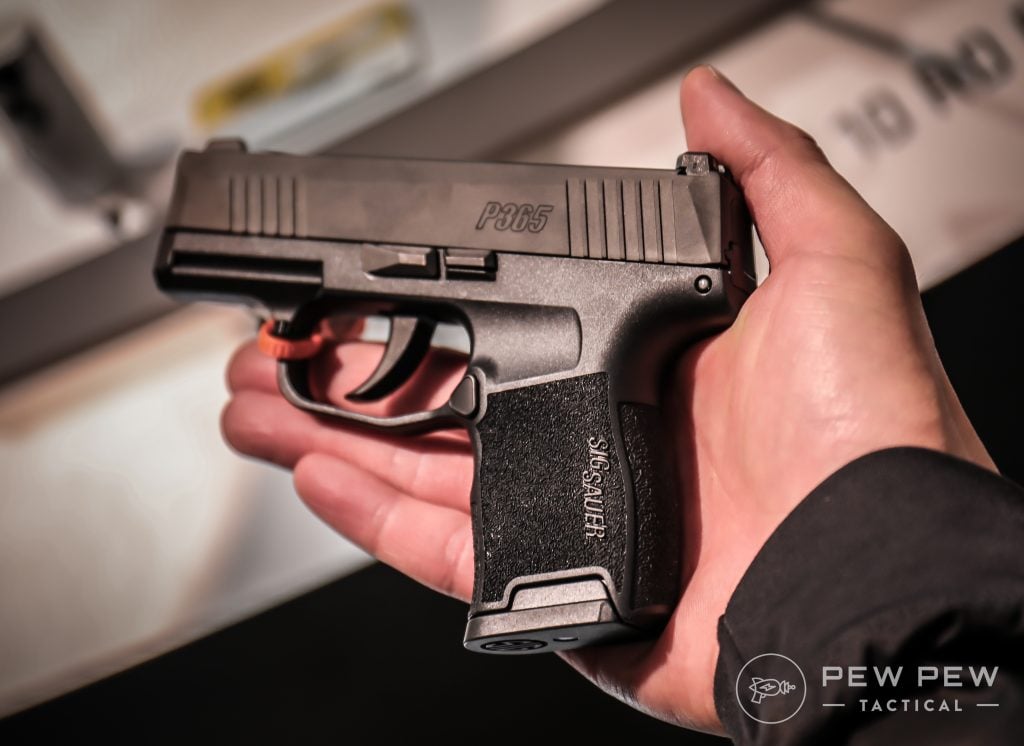 Choose wisely. And if you already own a reliable, accurate carry gun, invest your money in a class instead of another gun. Training matters. Self-defense is a perishable skill. Don't neglect it. Above all, shoot mindfully and often. 
What handguns do you like? Did you pick one of the guns on our list, or did we miss your favorite? Let us know in the comments below. Want more options? Check out the Best CCWs by Caliber.
[ad_2]